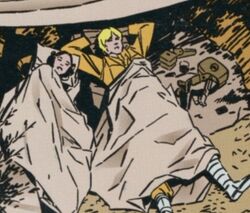 A thermal cape, also known as a "thermal wrap," was a poncho that helped its wearer to retain his or her body heat in cold conditions and was typically included in most survival packs.
In addition to being worn, a thermal cape could be used as an impromptu blanket or shelter. A combination of alcomase and Vectinian spider's silk was commonly used in the manufacture of thermal capes.
Appearances
Edit
Ad blocker interference detected!
Wikia is a free-to-use site that makes money from advertising. We have a modified experience for viewers using ad blockers

Wikia is not accessible if you've made further modifications. Remove the custom ad blocker rule(s) and the page will load as expected.