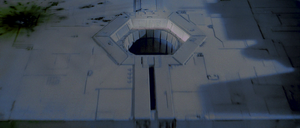 "The target area is only two meters wide. It's a small thermal exhaust port, right below the main port. The shaft leads directly to the reactor system."
―Jan Dodonna on the attack on the first Death Star
A thermal exhaust port or simply called an exhaust port was a small opening on the Death Star that led to its reactor core, which was deliberately designed by Galen Erso to be unstable.[1] During the Battle of Yavin, Luke Skywalker fired two proton torpedoes into the exhaust port with the aid of the Force, leading to the destruction of the battle station.[2]
Appearances
Edit
Notes and references
Edit
Ad blocker interference detected!
Wikia is a free-to-use site that makes money from advertising. We have a modified experience for viewers using ad blockers

Wikia is not accessible if you've made further modifications. Remove the custom ad blocker rule(s) and the page will load as expected.