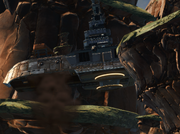 The Third Eye was a Hutt spy vessel equipped with high-resolution optics and signal monitors. During the Conquest of Makeb the Sith Empire destroyed the vessel to prevent it from discovering their base at the Gravity Hook 7.
Appearances
Edit
Ad blocker interference detected!
Wikia is a free-to-use site that makes money from advertising. We have a modified experience for viewers using ad blockers

Wikia is not accessible if you've made further modifications. Remove the custom ad blocker rule(s) and the page will load as expected.