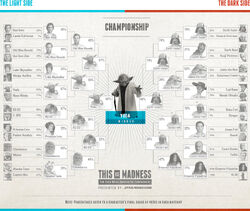 This Is Madness is an annual StarWars.com character popularity tournament. Started in 2013, it is held every March and is similar to the real-world NCAA March Madness.
Composition
Edit
A total of thirty-two characters from the original trilogy, the prequel trilogy, Star Wars: The Clone Wars, Star Wars: The Force Awakens and Star Wars Rebels are selected as candidates for the bracket, with each character falling into one of two categories: the Light Side and the Dark Side. From 2013 to 2016, a total of fifty-six different characters have competed in various years. Online voting is held on StarWars.com until a Light Side and a Dark Side champion is selected, following which the final championship is conducted.
Predict the Madness
Edit
In conjunction with StarWars.com's This Is Madness, Wookieepedia has a contest titled "Predict the Madness," in which Wookieepedia users submit their predictions for each match-up of This Is Madness. Prizes are awarded based on accuracy, and there are varying levels of prizes. In the past the prizes have been collectible action figures, wireless headphones, and other Star Wars merchandise.
External links
Edit
Ad blocker interference detected!
Wikia is a free-to-use site that makes money from advertising. We have a modified experience for viewers using ad blockers

Wikia is not accessible if you've made further modifications. Remove the custom ad blocker rule(s) and the page will load as expected.