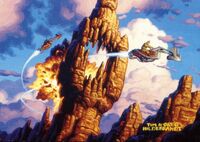 "Threading the needle" was a popular move among the various swoop bikers of Beggar's Canyon in which they would successfully jump through the Stone Needle. A slight miscalculation in this move would cause certain death. Luke Skywalker was one of very few who threaded the needle and survived.
Appearances
Edit
Ad blocker interference detected!
Wikia is a free-to-use site that makes money from advertising. We have a modified experience for viewers using ad blockers

Wikia is not accessible if you've made further modifications. Remove the custom ad blocker rule(s) and the page will load as expected.