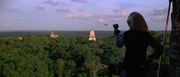 "We are approaching the planet Yavin. The Rebel base is on a moon on the far side. We are preparing to orbit the planet."
―Death Star intercom voice to Wilhuff Tarkin
Tikal (or Tik'al, according to the more current orthography) is one of the largest of the ancient ruined cities of the Maya civilization. It is located in the El Petén department of Guatemala. It was used as a filming location for Yavin 4 in Star Wars: Episode IV A New Hope.
The shot where a Rebel oversees the Millennium Falcon landing on Yavin was taken on top of a building known as Temple IV looking east where Temples I, II and III can be seen on film.
External links
Edit
Ad blocker interference detected!
Wikia is a free-to-use site that makes money from advertising. We have a modified experience for viewers using ad blockers

Wikia is not accessible if you've made further modifications. Remove the custom ad blocker rule(s) and the page will load as expected.