"It was just after four o'clock on November 6, 1989, and I was three days into writing my first novel for my new publisher, Bantam Books, when the phone rang. It was my agent. 'Tim,' he said after the usual pleasantries, 'we have a very interesting offer here.'"
―Timothy Zahn
Timothy Zahn is a science fiction novelist. He is best known for the Thrawn Trilogy (consisting of Heir to the Empire, Dark Force Rising, and The Last Command) which, alongside Dark Empire, began an explosion of Expanded Universe media. Following these works, Star Wars novels and story collections by authors such as Kevin J. Anderson and Michael A. Stackpole were released, reinvigorating a franchise that had been largely dormant for years. Zahn also wrote two additional Star Wars novels, collectively called The Hand of Thrawn Duology (consisting of Specter of the Past, and Vision of the Future). Recently he wrote the stand-alone novels Survivor's Quest, Outbound Flight, Allegiance, and Choices of One. He has also contributed to the script of several comics and short stories over the years, including Mara Jade: By the Emperor's Hand.
Zahn's work is not limited to Star Wars. He has also written the widely popular Conquerors' Trilogy, which tells the story of a war between Humans and a race of aliens that have indestructible spaceships and an "elder" form after death.
Zahn agreed to pose as his character, Talon Karrde, for the Star Wars Customizable Card Game—although hair extensions were needed.
Zahn's latest Star Wars novel, Scoundrels, features Han Solo, Chewbacca, Lando Calrissian, Winter, and new characters such as Bink Kitik, Tavia Kitik, Zerba Cher'dak and Rachele Ree.
Following the announcement of the new canon continuity on April 25, 2014,[1] Zahn had not been involved in any further writing of Star Wars titles. On July 16, 2016, however, it was announced that Zahn had been commissioned to author Thrawn, a new novel focusing on the character as featured in canon, as the character was introduced in Star Wars Rebels Season Three.[2] The novel was released on April 11, 2017.[3]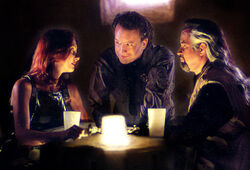 Other novels
Edit
Comic books
Edit
Short stories
Edit
Roleplaying scenarios
Edit
Future possibilities
Edit
Bibliography
Edit
External links
Edit
Notes and references
Edit
↑  Timothy Zahn on His Novel Thrawn, How to Pronounce the Grand Admiral's Full Name, and More on StarWars.com (backup link)
↑ Meeting Tim Zahn-Questions on the Jedi Council Forums (Literature board; posted by Coonsan on 2/5/07 12:20pm; accessed October 17, 2013)
Ad blocker interference detected!
Wikia is a free-to-use site that makes money from advertising. We have a modified experience for viewers using ad blockers

Wikia is not accessible if you've made further modifications. Remove the custom ad blocker rule(s) and the page will load as expected.