The Tirrith were an energy-based species of hive-minded sentients indigenous to Beheboth. Unlike most species of the galaxy, the Tirrith existed in gaseous form. Behoboth was a sparsely-inhabited backwater world, so the peculiar species were rarely studied; the galactic scientific community, by the time of the Galactic Civil War, had not yet reached a conclusion about whether the Tirrith represented a single huge group consisting of almost 17 million individuals, or several thousand colonies of anywhere from a few dozen to hundreds each.
The Tirrith had the ability to affect the atmosphere at atomic level, as demonstrated when they electrically seeded Beheboth's atmosphere and brought rain to the salt flats for the first time in centuries, in 3 ABY.
Around 8 ABY, former Imperial admiral Mils Giel discovered he could mutate the Tirrith.
Appearances
Edit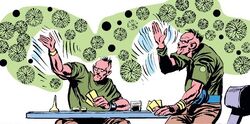 Ad blocker interference detected!
Wikia is a free-to-use site that makes money from advertising. We have a modified experience for viewers using ad blockers

Wikia is not accessible if you've made further modifications. Remove the custom ad blocker rule(s) and the page will load as expected.