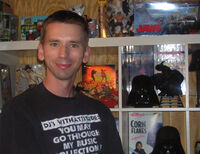 Tommy Mac wrote the backstory of Cebann Veekan appearing in the Databank, through the What's The Story? feature of Hyperspace.
He goes by the alias of DJ Maul: Got Feet? and has a long running Virtual Toy Room Tour blog on StarWars.com. He is a Mobile Disc Jockey, and has an entire room in his basement dedicated to his ever growing Star Wars collection. He attended Celebration 3 in 2005 dressed as "Darth Vader In A Tux" and was the organizer for Celebration IV's "Official Star Wars Bloggers Meet & Greet Party."
Star Wars bibliography
Edit
External links
Edit
Ad blocker interference detected!
Wikia is a free-to-use site that makes money from advertising. We have a modified experience for viewers using ad blockers

Wikia is not accessible if you've made further modifications. Remove the custom ad blocker rule(s) and the page will load as expected.