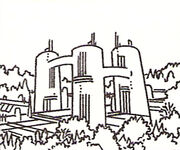 Tondatha was a suburb of Calna Muun on Agamar. It was the hometown of Keyan Farlander. When an Imperial assault craft bombarded the town, Keyan raced back to find that his parents living there had been killed.
Ad blocker interference detected!
Wikia is a free-to-use site that makes money from advertising. We have a modified experience for viewers using ad blockers

Wikia is not accessible if you've made further modifications. Remove the custom ad blocker rule(s) and the page will load as expected.