Torkil Mux was a male Arcona miner in the employ of Jabba Desilijic Tiure.
Shinbone Mining
Edit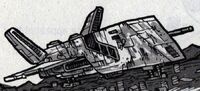 Working for Jabba Desilijic Tiure, Mux was mining gems on the planet Shinbone. He utilized walking plants as slave laborers. Unbeknownst to Jabba, Mux skimmed gems off deliveries and hid them on his transport. One day, the smuggling pair Han Solo and Chewbacca arrived with more laborers.
Jabba was expecting fifty kilograms of gems in payment for the new laborers, but Mux gave the two pilots less than the amount required. As Han was loading, Chewbacca started following a short walking plant, who led them onto Mux's ship. The two discovered Mux was stealing and hatched a plan to deal with the Arcona. Chewbacca would gather the walking plants onto his transport while Solo distracted the miner. Solo told Mux they had to take back the new delivery because they were diseased. At that point, Chewbacca stole the ship. Mux ordered Solo to bring his ship back . Solo shot Mux's K4 security droid and fled the planet in the Millennium Falcon. The two ships docked in orbit. Solo and Chewbacca took sixty kilograms of gems to give to Jabba, allowing the walking plants to take the ship to Kashyyyk.
Personality and traits
Edit
Torkil Mux proved to be a greedy criminal willing to steal from Jabba the Hutt. He was also overconfident, which allowed Han Solo and Chewbacca to destroy his entire operation.
Appearances
Edit
Ad blocker interference detected!
Wikia is a free-to-use site that makes money from advertising. We have a modified experience for viewers using ad blockers

Wikia is not accessible if you've made further modifications. Remove the custom ad blocker rule(s) and the page will load as expected.