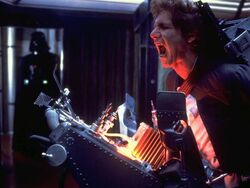 "Why are they doing this?
They never even asked me any questions."
―Leia Organa and Han Solo
Torture was a means of punishment, or interrogation through causing physical pain. Darth Vader was adept at it: even as a Jedi, he Force choked Poggle the Lesser to gain information on killing the brain worms.[1] He once tortured Han Solo so his pain would reverberate through the Force and draw out Luke Skywalker.[2]
The Galactic Empire used interrogator droids equipped with mind probes to torture subjects, though they proved futile against resilient subjects like Leia Organa.[3]
Saw Gerrera and his Partisans tortured Imperial prisoners.
After the New Republic supplanted the Empire, the new government enacted anti-torture laws, which did not prevent the First Order from secretly developing a new model of interrogator droid.[4]
The Tusken Raider nomads of Tatooine practiced ritual torture of captives.[5]
Appearances
Edit
Notes and references
Edit
Ad blocker interference detected!
Wikia is a free-to-use site that makes money from advertising. We have a modified experience for viewers using ad blockers

Wikia is not accessible if you've made further modifications. Remove the custom ad blocker rule(s) and the page will load as expected.