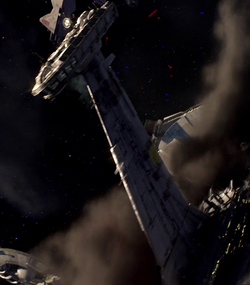 "The Chancellor's signal is coming from right there. The observation platform at the top of that spire."
A tower spire was the communications pod of the Invisible Hand, a Separatist Providence-class dreadnought present during the Battle of Coruscant. A section of the tower was outfitted by Count Dooku, a Sith apprentice.[1]
During the battle, Chancellor Sheev Palpatine was kidnapped by General Grievous and placed in the tower; however, Jedi Master Obi-Wan Kenobi and Jedi Knight Anakin Skywalker managed to locate him with R2-D2, and managed to rescue him from the General's clutches.[1]
Appearances
Edit
Notes and references
Edit
Ad blocker interference detected!
Wikia is a free-to-use site that makes money from advertising. We have a modified experience for viewers using ad blockers

Wikia is not accessible if you've made further modifications. Remove the custom ad blocker rule(s) and the page will load as expected.