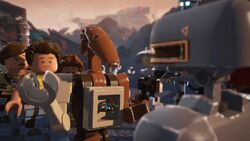 A Transmission pack was a device that was worn by the modified B1 battle droid Roger, who served the Freemakers following the Battle of Hoth. The Sith agent Naare planted a tracking device on his transmission pack during a trip to Tatooine. This allowed her to track down the Freemakers and to steal the Kyber Saber crystals from them. After escaping Naboo, the Freemakers discovered that Naare had been tracking them using Roger's transmission pack.[1]
They promptly removed it. Later, Roger reinserted it in order to save the Freemakers and Jek-14 from being killed by the rebellious droid N-3RO and his fellow mutineers. This attracted the attention of Naare and her new ally Graballa. Rowan Freemaker then used the transmission to dare Naare to race him to Hoth, where the last kyber crystal was located.[2]
Appearances
Edit
Notes and references
Edit
Ad blocker interference detected!
Wikia is a free-to-use site that makes money from advertising. We have a modified experience for viewers using ad blockers

Wikia is not accessible if you've made further modifications. Remove the custom ad blocker rule(s) and the page will load as expected.