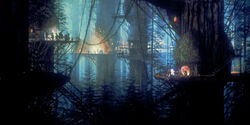 Trees were a type of plant found on many planets and moons throughout the galaxy. Some sentient species such as the Wookiees of the planet Kashyyyk[1] and the Ewoks of the Forest Moon of Endor made their homes in the branches of trees.[2] The subterranean caverns of Aleen housed a species of tree-like sentients, the Kindalo.[3]
On the planet Ahch-To, the birthplace of the Jedi Order and the location of the first Jedi Temple, a library existed inside of a uneti tree, containing Jedi knowledge.[4]
Appearances
Edit
Non-canon appearances
Edit
Notes and references
Edit
Ad blocker interference detected!
Wikia is a free-to-use site that makes money from advertising. We have a modified experience for viewers using ad blockers

Wikia is not accessible if you've made further modifications. Remove the custom ad blocker rule(s) and the page will load as expected.