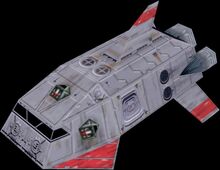 The Trident was a Gamma-class ATR-6 assault transport used by Galactic Empire during the Galactic Civil War. The transport participated in the Battle of Mylok IV, in particular at the finalization of a deal between the Habeen and Admiral Zaarin for new Hyperdrive Technology. During the finalization Nharwaak raiders in Y-wings and corvettes attempted to intervene. The raid was driven off by TIE Interceptors, modified to carry missiles, one of them piloted by Maarek Stele. Should they run out of missiles during the engagement, the Trident would be launched to reload the craft.
Behind the scenes
Edit
The Trident appears in Star Wars:TIE Fighter at Battle 4 mission 4. When the player runs out of missiles, the Trident will appear to reload your craft
Appearances
Edit
Ad blocker interference detected!
Wikia is a free-to-use site that makes money from advertising. We have a modified experience for viewers using ad blockers

Wikia is not accessible if you've made further modifications. Remove the custom ad blocker rule(s) and the page will load as expected.