Trilon, Inc. was a small company known to produce starship hulls and basic control systems. Their products were easily upgradeable, and were often constructed with some components made by larger companies, such as Kuat Drive Yards. Each of Trilon's products was constructed to meet the client's individual demands.
Trilon, Inc. was thought to be based on the industrial world of Mechis III. The bounty hunter, IG-88 used this to his advantage when he assumed control of the planet prior to the Battle of Endor. The Trilon, Inc. computer-based design systems were used by the assassin droid to create the Aggressor assault fighter, which became the base for IG-88's IG-2000 starfighters. Other Trilon products included the M31-Speeder and the Mining Barque.
Appearances
Edit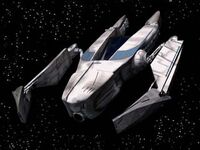 Ad blocker interference detected!
Wikia is a free-to-use site that makes money from advertising. We have a modified experience for viewers using ad blockers

Wikia is not accessible if you've made further modifications. Remove the custom ad blocker rule(s) and the page will load as expected.