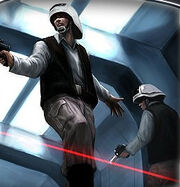 Tripwires, light traps and motion sensors were all used on Peppel, around 19 ABY, by the Devaronian Kardue'sai'Malloc in an attempt to heighten his simple hut's security.
Appearances
Edit
Ad blocker interference detected!
Wikia is a free-to-use site that makes money from advertising. We have a modified experience for viewers using ad blockers

Wikia is not accessible if you've made further modifications. Remove the custom ad blocker rule(s) and the page will load as expected.