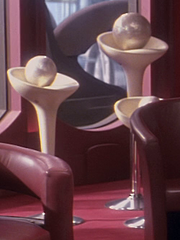 The trumpet weed was a type of large plant with cup-like ends found on the planet of Dac. Once fossilized, trumpet weeds could be polished and turned into art objects. The Quarren Tikkes, Senator of Dac around 32 BBY, once offered his colleague Palpatine of Naboo three large pearls from the seas of his homeworld, held in the ends of such fossilized trumpet weeds.[1] The Naboo senator subsequently displayed them in his apartment suite[2] as a part of his collection of historic art and artifacts.[1]
Behind the scenes
Edit
A set of three fossilized trumpet weeds appeared in Star Wars: Episode I The Phantom Menace.[2] In real life, "trumpet weed" is one of the vernacular names of the Eutrochium purpureum, a North American flowering plant with white blossoms.[3]
Appearances
Edit
Notes and references
Edit
Ad blocker interference detected!
Wikia is a free-to-use site that makes money from advertising. We have a modified experience for viewers using ad blockers

Wikia is not accessible if you've made further modifications. Remove the custom ad blocker rule(s) and the page will load as expected.