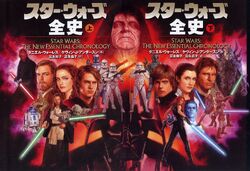 Tsuyoshi Nagano (長野 剛) is an artist who does the cover artwork for the Japanese versions for the Star Wars novels.
In addition to his Star Wars works, he's also done illustrations for KOEI PC/Online game series of Nobunaga's Ambition and Romance of the Three Kingdoms, Toho movie Godzilla, Mothra and King Ghidorah: Giant Monsters All-out Attack ('01), and covers for Sekai Bunka Publishing Sanguozhi (Three Kingdom Saga).
He is also a member of the Society of Illustrators and the Japan Publication Artist League.
Ad blocker interference detected!
Wikia is a free-to-use site that makes money from advertising. We have a modified experience for viewers using ad blockers

Wikia is not accessible if you've made further modifications. Remove the custom ad blocker rule(s) and the page will load as expected.