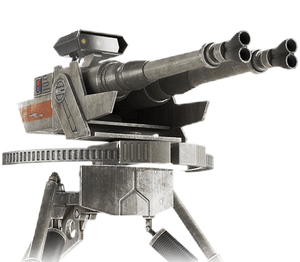 A turret was a mount for a weapon that enabled it to turn and pivot, allowing it to fire in many different directions. They were mounted on many vehicles, starfighters, and starships. Weapons mounted on turrets included laser cannons and other types of projectile cannons.
Tanks, tank-like vehicles and walkers usually had their main weapon mounted on a swiveling turret, although they could also have smaller side-mounted turret weapons. Examples included the Armored Assault Tank, the Defoliator Deployment Tank, and the All Terrain Tactical Enforcer. Other ground vehicles that were fitted with turrets included the Flash speeder the Imperial Troop Transport, and the WLO-5 battle tank.
Starfighters and aerial vehicles that were equipped with turrets included the droid gunship, the Republic attack gunship, and the Phantom.
Starships that were equipped with turrets included the Republic frigate, the Republic Cruiser, Merchant One, the Ghost, and the Phoenix.
Appearances
Edit
Non-canon appearances
Edit
Ad blocker interference detected!
Wikia is a free-to-use site that makes money from advertising. We have a modified experience for viewers using ad blockers

Wikia is not accessible if you've made further modifications. Remove the custom ad blocker rule(s) and the page will load as expected.