The U-wing Expansion Pack is a supplement to the tactical ship-to-ship combat game, X-Wing: Core Set , published by Fantasy Flight Games. The expansion features a detailed miniature of the UT-60D U-wing starfighter/support craft. Unlike the rest of Wave X, it alongside its Imperial counterpart TIE Striker was not announced with Wave X, as they were instead announced a month later. Both it and the TIE Striker are to promote the then-upcoming release of Rogue One: A Star Wars Story. It as well as the TIE Striker were announced on September 2, 2016.
Publisher's Summary
Edit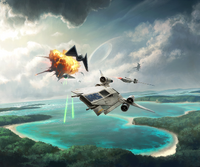 The Rebel Alliance used the U-wing to deploy troops under the cover of darkness or into the midst of dangerous situations. You can use the U-wing Expansion Pack for X-Wing™ to transport Jyn Erso and the other heroes of Rogue One: A Star Wars Story straight to your tabletop. It features one highly detailed and pre-painted miniature U-wing with articulated wings that can pivot back and forth, along with four ship cards and fourteen upgrades. Conduct espionage. Promote Rebel bravery. Pivot your ship's wings to real effect. The U-wing Expansion Pack makes it all possible.
The U-wing Expansion Pack contains a miniature of the UT-60D, plus two maneuver dials and action tokens, as well as pilot and upgrade cards.
Ship components
Edit
Pilot Cards
Edit
Upgrade Cards
Edit
Reference Cards
Edit
Notes and references
Edit
External links
Edit