Ukio
Talk

7
107,711pages on
this wiki
Ukio
Astrographical
Region
Sector
System
Moons

1[2]

Grid coordinates

S-15[3]

Rotation period

22 standard hours[1]

Orbital period

357 local days[1]

Physical
Atmosphere

Type 1 (breathable)[1]

Gravity

Light (0.8 Standard)[1]

Primary terrain

Fields

Societal
Native species
Immigrated species
Government

Overliege Monarchy[1]

Population

7.5 billion[1]

Major cities

Sashasa (capital)

Major imports

High technology[1]

Major exports

Foodstuffs[1]

Affiliation
Ukio was a well-known agriworld in the Ukio system of the Abrion sector, located along the Triellus Trade Route and homeworld of the Ukians. It served as one of the top producers of foodstuffs for the Core Worlds.
Description
It was a large planet with a gentle climate due to a low axial tilt, which allowed for nearly year-round growing season for agriculture. Nearly the entire planet had been converted to food production uses, and Ukian law even required crop rotation procedures to maximize output. The planet had three large continents, cut through by hundreds of rivers to provide for natural irrigation. The world was governed by the Overliege, a hereditary monarch.
History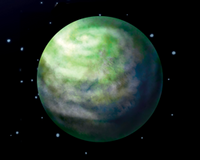 The planet attempted to secede from the Galactic Republic in 22 BBY, shortly before the Clone Wars. At the time, it was ruled by Overliege Topas dosLa, who wanted his world to have better control over its exports and to no longer suffer under burdensome Republic tariffs. This didn't happen thanks to master Yoda who negotiated a personal entreaty that brought back the planet into the Republic. However, in the aftermath of the Battle of Ukio, the planet was taken over by the Corporate Alliance.[2]
It was later part of the Galactic Empire, and many native Humans joined the military, including Corporal Oberk, Corporal Janse, and Sergeant Narthax. Ukio was one of the New Republic worlds attacked by Thrawn. This was where he first used the trick, coordinated by Joruus C'baoth, of firing turbolaser blasts at the shields and having cloaked ships, which had sneaked in with the planetary shields down, to fire. This caused the appearance that Thrawn was firing through the shields, and Ukio surrendered.
Appearances
Sources
Notes and references