Ultimate Adversaries is a sourcebook for the Star Wars Roleplaying Game published by Wizards of the Coast in 2004.
Chapter One: Villains
Edit
Individual Villains
Generic Organizations

Mercenary Company
Organized Crime Syndicate
Planetary Security Force
Primitive Culture
Private Security Force
Resistance Movement
Swoop Gang
Chapter Two: Creatures
Edit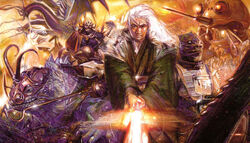 Individual Creatures
Creature Sizes
Climate Templates
Creature Templates

Armored
Carnivorous
Domesticated
Enlarged
Force Using
Highly Evolved
Shaped
Chapter Three: Droids
Edit
Individual Droids
Droid Vehicles
Appendix: New Rules
Edit
Combat

Aiming
Area Fire
Breaching the Hull

Weapons

Ion Cannon, Anti-Vehicle
Merr-Sonn Model 6 "Quick-6"
Knock-Out Darts
Thogk (Gamorrean Club)

Weapon Accessories
Armor and Protective Gear

Primitive Armor
Primitive Shield

Equipment

Disguise Kit
Utility Belt
VidGraph Peer Macrobinoculars ("Snooper Goggles")

Droid Equipment
Vehicles
Starships
Skills
Feats
Appendix: Adversaries by Challenge Code
Cut content
Edit
Notes and references
Edit
↑  Catalog of Enemies on StarWars.com (content now obsolete; backup link)
External links
Edit
Ad blocker interference detected!
Wikia is a free-to-use site that makes money from advertising. We have a modified experience for viewers using ad blockers

Wikia is not accessible if you've made further modifications. Remove the custom ad blocker rule(s) and the page will load as expected.