Ultra-Light Assault Vehicle
Talk

4
110,069pages on
this wiki
Ultra-Light Assault Vehicle
Production information
Manufacturer
Model

Ultra-Light Assault Vehicle[2]

Class
Cost
Technical specifications
Length

7 meters[2]

Maximum speed

400 km/h[2]

Maximum altitude

0.6 meters[2]

Armament
Crew
Passengers

None[1]

Cargo capacity

25 kg[1]

Consumables

1 week[1]

Usage
Availability

Military[1]

Role(s)

Light assault vehicle[2]

Era(s)
Affiliation
The Ultra-Light Assault Vehicle (ULAV) was a tiny landspeeder used early on in the years of the Galactic Empire.
Characteristics
Edit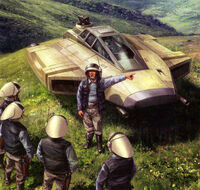 The ULAV was armed with one twin forward laser cannon (fire-linked), one forward concussion grenade launcher, and a rear-facing medium blaster cannon. These small, fast and extremely agile landspeeders were perfect for rapid deployment and slashing strikes across the battlefield.[1]
ULAVs were used as early as in the Clone Wars, piercing the lines of CIS droid units.[1] The prestigious Raithal Academy included training simulations of attacking Rebel ULAVs to hone the abilities of its All Terrain Armored Transport pilots.[5]
They were eventually phased out due to a perceived "lack of intimidation" in their enemies, and were put into storage on Hiffis for possible later use. Due to raids on Imperial outposts, the Rebel Alliance soon gained a great number of these tiny speeders. With their great speed and agility, the ULAVs had the advantage of dodging most forms of artillery. It was also unsuccessfully used by Zsinj against Wraith Squadron.
Appearances
Edit
Notes and references
Edit