Underworld: The Yavin Vassilika 2 was the second issue in the Underworld: The Yavin Vassilika series of comics. It was released January 10, 2001 by Dark Horse Comics.
Publisher's summary
Edit
The race is on as Han Solo and Chewie search the planet Kalkovak for information leading to the legendary Vassilika of Yavin. Things get lively, though, when hardcore bounty hunters Bossk, Dengar, and IG-88 show up with a laundry list of grudges to settle! And there's nothing more explosive than bad blood between scoundrels! Throw in a swaggering Lando Calrissian, a seductive Jozzel Moffet, and a band of curious Jawas, and you've got yourself the fixings for a visit the locals aren't too likely to forget!
Appearances
Edit
Characters
Droid models
Locations
Organizations and titles
Sentient species
Vehicles and vessels
Weapons and technology
Collections
Edit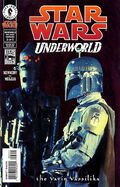 Ad blocker interference detected!
Wikia is a free-to-use site that makes money from advertising. We have a modified experience for viewers using ad blockers

Wikia is not accessible if you've made further modifications. Remove the custom ad blocker rule(s) and the page will load as expected.