Underworld: The Yavin Vassilika 5 was the fifth and final issue in the Underworld: The Yavin Vassilika series of comics. It was released June 20, 2001 by Dark Horse Comics.
Publisher's summary
Edit
Never trust a scoundrel, especially one that's smiling. As the race for the fabled Vassilika culminates in a seven-way free-for-all and a mad-dash for freedom, it's every being for himself and partners be damned! But as Han, Lando, and the rest of the competitors soon learn, the most dangerous enemy is the one you can't see...Wrapping up the exciting Underworld series and featuring a painted cover by Carlos Meglia!
Appearances
Edit
Characters
Droid models
Locations
Organizations and titles
Sentient species
Vehicles and vessels
Weapons and technology
Miscellanea
Collections
Edit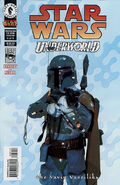 Ad blocker interference detected!
Wikia is a free-to-use site that makes money from advertising. We have a modified experience for viewers using ad blockers

Wikia is not accessible if you've made further modifications. Remove the custom ad blocker rule(s) and the page will load as expected.