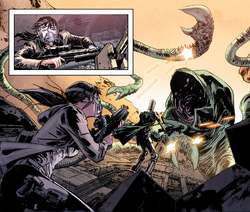 An Unidentified giant tentacled serpent inhabited the barren desert wastelands of the planet Carreras Minor. While evading the Carreras system's security forces, the junk dealer Ania Solo and her companions, the Mon Calamari Sauk and the assassin droid AG-37, landed their freighter on Carreras Minor. They were quickly attacked by the monster but were rescued by the Imperial Knight Jao Assam. In the end, they managed to kill the monster by firing the freighter's thruster engines at its face, incinerating it.
Appearances
Edit
Ad blocker interference detected!
Wikia is a free-to-use site that makes money from advertising. We have a modified experience for viewers using ad blockers

Wikia is not accessible if you've made further modifications. Remove the custom ad blocker rule(s) and the page will load as expected.