"Why we gotta stand guard in here? The boss afraid somebody's going to steal a bunch of frozen nerfs?"
"It aint' the nerfs he's got us guarding, you idiot!"
"You don't have to get mean. I'm new. They don't tell me much."
―A Guineo worker and Draag supervisor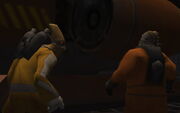 In 32 BBY, a Draag supervisor worked in the hangar of Haugg Nerf Industries in the industrial district of the planet Coruscant. One day, when a speeder that belonged to a Human death stick dealer named Jervis Gloom arrived without Gloom on it, the Draag suspected something unusual had happened. The reptilian told a Guineo lackey to guard the speeder, and the Draag left to inform the factory's boss, Groff Haugg. Before the Draag could do so, however, the bounty hunter Jango Fett intervened.
Appearances
Edit
Ad blocker interference detected!
Wikia is a free-to-use site that makes money from advertising. We have a modified experience for viewers using ad blockers

Wikia is not accessible if you've made further modifications. Remove the custom ad blocker rule(s) and the page will load as expected.