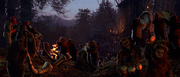 A tribe of Ewoks inhabited a settlement known as Bright Tree Village on the Forest Moon of Endor. In 4 ABY, the tribe joined forces with a band of Rebel Alliance operatives in their efforts to destroy a shield generator that protected the Galactic Empire's second Death Star, in orbit around the moon. The Ewoks also participated in the Battle of Endor, opposing the Empire's scout troopers and AT-ST walkers. The tribe was led by Chief Chirpa, who was aided by his Council of Elders and the shaman Logray.
Appearances
Edit
Non-canon appearances
Edit
Ad blocker interference detected!
Wikia is a free-to-use site that makes money from advertising. We have a modified experience for viewers using ad blockers

Wikia is not accessible if you've made further modifications. Remove the custom ad blocker rule(s) and the page will load as expected.