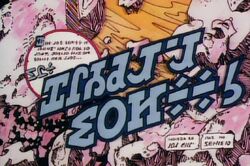 A cartoon existed in the galaxy in 1 ABY. It featured a mission undertaken by the Rebel Alliance's Heroes of Yavin on the planet Panna, where they encountered the bounty hunter Boba Fett. The cartoon was narrated by Captain Kazan, the commander of the cruiser RS Revenge. The young Wookiee Lumpawarrump watched it on Kashyyyk during the Galactic Empire's blockade of the world.
Behind the scenes
Edit
Out-of-universe, the cartoon is called The Story of the Faithful Wookiee and aired in 1978 as part of The Star Wars Holiday Special. In-universe, it is yet to receive a name.
Appearances
Edit
Ad blocker interference detected!
Wikia is a free-to-use site that makes money from advertising. We have a modified experience for viewers using ad blockers

Wikia is not accessible if you've made further modifications. Remove the custom ad blocker rule(s) and the page will load as expected.