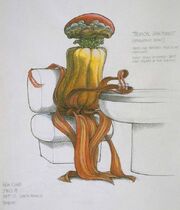 "Where have you been?
Why haven't you called?"
―The introspective Revwien
This Revwien was an introspective individual who, at one point, suffered heartbreak over a relationship and drowned sorrows while having a drink.[1]
Behind the scenes
Edit
This individual was featured in Monsters and Aliens from George Lucas, a book published in 1993.[1] Lucasfilm employee Leland Chee, who maintains the Holocron continuity database, has indicated that information contained in the book is non-canonical.[2]
Notes and references
Edit