This Rodian Jedi fought alongside both Lumas Etima and a Twi'lek Jedi at the Petranaki arena during the Battle of Geonosis in 22 BBY.
Behind the scenes
Edit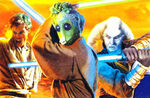 This Rodian Jedi was introduced by
Hasbro
in
2003
, as part of the
Jedi Knight Army
multipack. He was later given a full body illustration by
Jason Edmiston
for the
2010
,
Rodian Jedi & Battle Droid
multipack. Text included on the back of the 2010 multipack implies that this Rodian survived the Battle of Geonosis.
Notes and references
Edit