The unidentified Xantar starship was a saucer-like starship operated by a pilot who brought Luke Skywalker to his home planet of Xantar. Some time earlier, the pilot brought the starship to the homeworld of Indiana Jones, then brought Jones back to Xantar.
Behind the scenes
Edit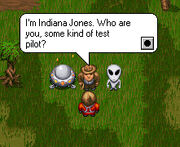 The spaceship was patterned after the popular image of alien spacecraft, flying saucers. The ship's pilot was meant to resemble the common image of aliens believed to visit Earth, known as Greys. The ship appeared at the end of the Indiana Jones and His Desktop Adventures video game, taking Indy away to the pilot's home planet. The ship, the pilot and Indiana Jones later appeared in Yoda Stories as a reference to that earlier game.
Appearances
Edit
Ad blocker interference detected!
Wikia is a free-to-use site that makes money from advertising. We have a modified experience for viewers using ad blockers

Wikia is not accessible if you've made further modifications. Remove the custom ad blocker rule(s) and the page will load as expected.