Unidentified airspeeder
Talk

2
103,492pages on
this wiki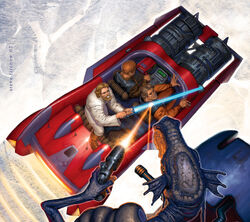 This airspeeder belonged to Senator Simon Greyshade in 24 BBY. It matched the profile of the XJ-6 airspeeder, with the only notable differences being the extended length, addition of seats (from 2 to 5), and paint job.
Jedi Master Obi-Wan Kenobi and his Padawan Anakin Skywalker utilized it to escort the senator to safety.
Behind the scenes
Edit
While this model is shown on the cover of the comic, a different speeder is shown in the comic. This may be accidental on the part of the artists, or intentional to show correlation between Senator Greyshade's vehicles.
It is also interesting to note that the red scheme is a change from Simon's usual paint schemes, which are notably yellow.[1]
Appearances
Edit
Notes and references
Edit