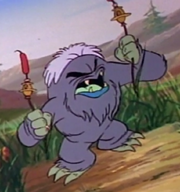 At least one member of a species of furred, bipedal creatures with green tongues lived on the Forest Moon of Endor. The creatures had sharp teeth and red eyes. One of them attacked a group of mimphs and tried to eat them before the Ewoks Wicket Wystri Warrick and Kneesaa a Jari Kintaka swooped down on a skin glider and rescued the mimphs.
Behind the scenes
Edit
This creature appears in the opening credits of the second season of the Star Wars: Ewoks animated cartoon series. The beast does not reappear in any of the episodes of the series, however.
Appearances
Edit
Ad blocker interference detected!
Wikia is a free-to-use site that makes money from advertising. We have a modified experience for viewers using ad blockers

Wikia is not accessible if you've made further modifications. Remove the custom ad blocker rule(s) and the page will load as expected.