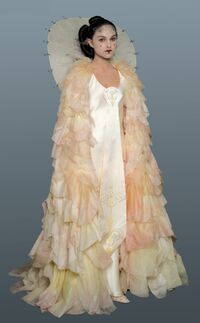 A
species
of huge, lovely
flowers
, grew near
Padmé Amidala's native village
in the mountains of the
planet
Naboo
. Their petals moved through
shades
of pink and yellow, and they bloomed only once every eighty-eight
years
. The
Naboo
thought this secular event heralded a time of special celebration.
[1]
During her tenure as Queen of Naboo, Amidala possessed a white dress that came with a cape of silky petals, which imitated those of that flower species. She wore it on at least one occasion, during the victory celebrations that followed the Trade Federation's demise[2] in 32 BBY.[3]
Notes and references
Edit
Ad blocker interference detected!
Wikia is a free-to-use site that makes money from advertising. We have a modified experience for viewers using ad blockers

Wikia is not accessible if you've made further modifications. Remove the custom ad blocker rule(s) and the page will load as expected.