"Zonama Sekot's sun is behind us. These two spectacular dancers, the red giant and the white dwarf, with their long spiral tail, are its companions."
―Charza Kwinn, to Obi-Wan Kenobi and Anakin Skywalker
A white dwarf star orbited close to a red giant in the Outer Rim Territories' Gardaji Rift region. Plasma from the red giant was pulled toward the white dwarf and then flung outward in a glowing spiral of red and purple gas, which provided an impressive source of illumination in the skies of the nearby planet Zonama Sekot.
Description
Edit
"Two stars, a red giant and a white dwarf, orbit close to each other. Zonama Sekot circles the third star, a bright yellow sun, which orbits much farther out, several light-months distant."
―Charza Kwinn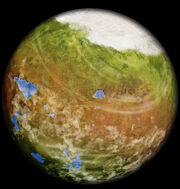 A white dwarf star was located within a trinary star system in the Gardaji Rift,[2] which was part of the Outer Rim Territories' Gardaji sector.[1] The white dwarf orbited close to a red giant star. A third star, a yellow dwarf, lay at a distance of several light-months from the pair and was orbited by the sentient planet Zonama Sekot[2] until 29 BBY,[3] when the planet left the system through the use of its own built-in hyperdrive engines.[2]
The white dwarf pulled from the red giant a ribbon of plasma, which then curled around the smaller star and was flung outward in a long spiral of red and purple ionized gas. The combined motion of the gas and the double-star system formed by the white dwarf and the red giant resembled a large pinwheel that stretched across the northern sky of Zonama Sekot, illuminating the planet both during the day and at night.[2]
"Wow."
―Anakin Skywalker, upon first seeing the interaction between the white dwarf and the red giant
When they visited Zonama Sekot[2] in 29 BBY,[3] the Human Jedi Obi-Wan Kenobi and Anakin Skywalker; their Priapulin pilot Charza Kwinn; and, independently of the trio, the Human starship designer Raith Sienar were all impressed by the glowing display of the double-star system.[2]
Behind the scenes
Edit
The white dwarf first appeared in Rogue Planet, a 2000 novel written by Greg Bear.[2] The Essential Atlas, a 2009 reference book, placed the Gardaji Rift, and therefore the white dwarf, in grid square M-1.[3]
Appearances
Edit
Notes and references
Edit
↑ 1.0 1.1  Star Wars: The Essential Atlas Online Companion on StarWars.com (article) (backup link) — Based on corresponding data for Gardaji Rift
Ad blocker interference detected!
Wikia is a free-to-use site that makes money from advertising. We have a modified experience for viewers using ad blockers

Wikia is not accessible if you've made further modifications. Remove the custom ad blocker rule(s) and the page will load as expected.