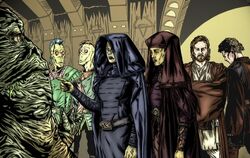 The Unity Council was the leadership committee of the Unity of Community government on Ansion. It was headquartered in a large municipal hall in the capital city of Cuipernam, with the delegates meeting around a handsome xellwood table.
The Council consisted of seven elected representatives: four Ansionians (Fargane, Ranjiyn, Induran, and Kandah), two Humans (Garil Volune and Tun Dameerd), and one Armalat (Tolut). Fargane was apparently the senior member of the Council.
For the vote of Galactic Republic secession in 22 BBY, five additional members to the Council were added, four Ansionians and one offworlder. Only Kandah and another Ansionian voted to leave the Republic.
Appearances
Edit
Ad blocker interference detected!
Wikia is a free-to-use site that makes money from advertising. We have a modified experience for viewers using ad blockers

Wikia is not accessible if you've made further modifications. Remove the custom ad blocker rule(s) and the page will load as expected.