'Solo: A Star Wars Story' Official Trailer
"You know, he's younger in this movie and that's fun because you have to imagine him 10 years earlier in his early 20s. What was he like before he hardened up? Before he had some setbacks? Before he put on this cynical coat? What got him there?"
Solo: A Star Wars Story is an upcoming stand-alone Star Wars film directed by Ron Howard from a screenplay by Lawrence Kasdan and Jon Kasdan, scheduled for release on May 25, 2018. It stars Alden Ehrenreich as Han Solo in the years prior to Star Wars: Episode IV A New Hope. Donald Glover portrays Lando Calrissian and Joonas Suotamo portrays Chewbacca. Woody Harrelson, Emilia Clarke, Thandie Newton, and Phoebe Waller-Bridge also star.
The film was first announced as a Han Solo picture in 2015, along with the news that Phil Lord and Christopher Miller would be the film's directors. Principal photography began in January 2017, after which point creative differences arose between the two directors and the studio. They were replaced by Ron Howard, who was tasked with completing principal photography along with what was reported to be extensive reshoots.
Official description
Edit
Board the Millennium Falcon and journey to a galaxy far, far away in Solo: A Star Wars Story, an all-new adventure with the most beloved scoundrel in the galaxy. Through a series of daring escapades deep within a dark and dangerous criminal underworld, Han Solo meets his mighty future copilot Chewbacca and encounters the notorious gambler Lando Calrissian, in a journey that will set the course of one of the Star Wars saga's most unlikely heroes.[13]
Development
Edit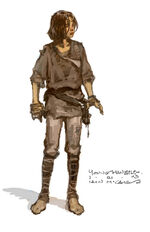 The earliest incarnation of a live-action depiction of young Han Solo came during the pre-production of Star Wars: Episode III Revenge of the Sith. Writer and director George Lucas conceived an idea of Solo as a child on Kashyyyk, with Chewbacca raising the young boy like a son. Solo would have been present during the Battle of Kashyyyk and would have encountered Yoda, helping the Jedi Master discover scraps of a droid that could have aided Yoda in determining the whereabouts of General Grievous. Concept art from Iain McCaig showed the young Solo as a slob, a juxtaposition of the character in his later years. "He's such a persnickety guy later — he always has to have the best of everything," McCaig said in The Art of Star Wars Episode III: Revenge of the Sith, "so I thought it'd be great if when he was a kid, he was an absolute slob." These concepts never made it out of pre-production, and Solo did not appear in Revenge of the Sith[14]—though Chewbacca ultimately did make a cameo appearance during the battle.[15]
After the release of Revenge of the Sith, Lucas began planning a live-action television series called Star Wars: Underworld, set between Revenge of the Sith and A New Hope. The series, dealing with elements of the criminal underworld, could have included some of Solo's backstory. According to Stephen Scaia, one of the writers of the ultimately unproduced series, the show's writers came up with a story for how Solo met Chewbacca. Another story would have dealt with how Solo first met Lando Calrissian,[16] who first appeared in Star Wars: Episode V The Empire Strikes Back.[17]
Pre-production
Edit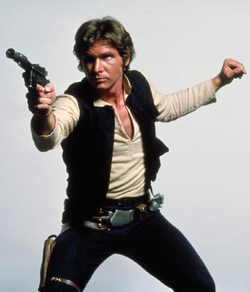 "…George had sort of roughed-out many movies—not just the new trilogy but other movies, the spinoffs and things. I wasn't sure I wanted to do anything, but I said, "I could do the Han Solo movie"—because he's my favorite character."
―Lawrence Kasdan
Ideas for a young Han Solo film began to percolate in the lead up to The Walt Disney Company's acquisition to Lucasfilm. In October 2012, as Lucas was preparing to sell his company, Lucasfilm president Kathleen Kennedy contacted Lawrence Kasdan, writer of The Empire Strikes Back and co-writer of Star Wars: Episode VI Return of the Jedi, and asked him to meet her and Lucas to discuss new films in the franchise. Kasdan recounted that Lucas had already come up with some basic ideas for the sequel trilogy and had also come up with the concept of stand-alone films. One of those movies was about young Han Solo, before the events of A New Hope. Kasdan was initially hesitant on being part of the new films, but he decided he could do the Han Solo movie as Solo was his favorite character.[18] He pitched his idea to Bob Iger by telling him about the scene where Han gets his last name.[19]
After agreeing to the job, Kasdan was also asked to help develop what would become Star Wars: Episode VII The Force Awakens. Once he had completed work on that film, Kasdan felt creativly drained, so he asked his son Jon to assist in developing the Han Solo film.[20] The Kasdans worked on the script for nine months,[21] during which they were inspired by Treasure Island, Heat, Unforgiven and various films by the Coen brothers.[20] Meanwhile, Phil Lord and Christopher Miller were hired to direct.[2] Lord and Miller tested several thousand actors for the part[22] before settling on Alden Ehrenreich, who had been the first person to audition. According to Miller, they didn't want an impersonation of Harrison Ford, but "someone who could evoke the spirit of the iconic performance we all remember while bringing something new and fresh."[23][24] Ehrenreich was officially announced during Celebration Europe.[5] He (and later, Ron Howard) met with Harrison Ford to discuss the character, and Lucasfilm sent Ford a copy of the script for his approval.[25] Once Ehrenreich was cast, certain parts of the script were revised to be tailored to his voice; The final script also incorporated contributions from Lord, Miller and (later) Howard. As Jon Kasdan told SFX magazine, "I think ultimately the movie that you'll see is truly a product of the five of us all coming together in this weird way to tell this story."[21]
Production
Edit
"I think in terms of us leaving the project, I think everybody went in with really good intentions and our approach to making the movie was different than theirs. That was a really big gap to bridge, and it proved to be too big."
―Phil Lord
Principal photography began in January 2017,[9] with a working title of "Star Wars: Red Cup."[26] By March, a film crew was present in Fuerteventura, Spain.[27] One of the three rewards in the 2017 Force for Change fundraiser was a role in the film.[28]
On June 20, 2017, Lucasfilm announced that directors Lord and Miller were departing from the project due to creative differences and that a new director would be announced soon.[29] Entertainment Weekly reported that Lord and Miller encouraged an improvisational style on set, which Lucasfilm insiders believed was moving the film away from the vision crafted by the Kasdans in their script and ended up significantly changing the story. Lucasfilm believed that these apparent issues could be fixed during reshoots, but Lord and Miller were reportedly reluctant to significantly alter their approach to the film. As a result, Kennedy made the decision to remove Lord and Miller from the production.[30] Co-writer Lawrence Kasadan later attributed it to tone: "You can have fun with the tone but you never make fun of the tone, in my world."[31]
On June 22, it was announced by Lucasfilm that Ron Howard would take over directorial duties for the film.[1] Howard had worked on three previous Lucasfilm projects: 1973's American Graffiti, 1979's More American Graffiti and 1988's Willow (which starred Star Wars veteran Warwick Davis, who also makes a cameo in the Han Solo film[32]). After the announcement, Howard said that he had been a fan of Star Wars since the beginning and that he found it "gratifying to be asked to lend my voice to the [Star Wars] universe."[33] Michael Kenneth Williams was originally cast in the film but was unavailable for the reshoots,[3] so he was replaced by Paul Bettany.[34] George Lucas visited the set at one point, and helped direct a scene.[35] On October 14, it was announced that screenwriter Jon Kasdan and first assistant director Toby Hefferman would portray Tag and Bink, two characters that first appeared in the Star Wars comics published by Dark Horse Comics.[36]
On October 17, Howard confirmed that production had wrapped up, and he officially announced the title of the film would be Solo: A Star Wars Story.[37] By March 30, 2018, the editing and score were finished,[38] and post-production had ended by April 22.[39] John Powell composed the film's musical score and John Williams contributed a new theme.[40]
Marketing and release
Edit
A TV spot aired during Super Bowl LII,[41] followed by a full teaser trailer the next day and the release of a series of character-themed teaser posters;[42] A theatrical trailer and poster were released on April 8,[10] with the former debuting during American Idol.[43] Tickets became available for pre-sale beginning on May 3, and sold second to Infinity War among 2018 releases.[44] The film had its world premiere on May 10, 2018.[45] and appeared at the Cannes Film Festival on May 15.[46] It is scheduled for wide release on May 25 (the 41st anniversary of the release of A New Hope, in which Harrison Ford first appeared as Han Solo).[2] Its opening weekend box office is estimated to be $170 million.[47]
The film was spotlighted in the February and April 2018 issues of Entertainment Weekly,[48][49] the 300th issue of SFX,[21] and the June 2018 issue of Empire.[50] The cast and crew made various media appearances to promote the film: Ron Howard appeared on The Late Show with Stephen Colbert and Good Morning America;[51][52] Donald Glover hosted the May 5 episode of Saturday Night Live;[53] Howard held a fan Q&A session on his Twitter account,[54] and later participated in press conference/Facebook Q&A with members of the cast;[55][56][57] Alden Ehrenreich, Donald Glover and Woody Harrelson made separate appearances on Jimmy Kimmel Live!.[58]
Merchandise
Edit
Lucasfilm arranged Solo licensing deals with Denny's, Esurance, General Mills, Nissan, Solo Cup Company and Symantec.[59] Denny's aired a commercial that utilized props, characters and a set from the film.[60] The French car company Renault also aired an ad showcasing the film's train sequence.[61] The Solo merchandise line debuted in stores on April 13.[62] The video games Star Wars: Commander and Star Wars: Force Arena will be updated with Solo-related content,[63] and Star Wars Battlefront II's second season content will be based around Solo.[64]
The release of the initial teaser posters prompted a complaint from a French artist, Hachim Bahous, that the design of the posters was a plagiarization of a series of covers he designed for Sony Music for French album releases. A side-by-side post demonstrated that the posters and covers feature nearly identical colorization for both the background and character/album names, as well as a similar font.[65][66][67] On April 23, a lawsuit was filed by Ren Ventures, who hold the trademark for the card game Sabacc, against Lucasfilm and Denny's Star Wars card game after Sabacc was featured in promotion for the film.[68]
Reception
Edit
Solo: A Star Wars Story was released at the 2018 Cannes Film Festival on May 15, 2018.[53][69] The film scored a 70% rating on review aggregator website Rotten Tomatoes, based on 103 reviews.[70]
Forbes reviewer Scott Mendelson described the film as a "Star Wars" story that played like an Indiana Jones movie. While opining that the film had no "artistic" reason to exist, Mendelson praised Solo for its decent cast, fine action sequences, and references to the animated television series Star Wars: The Clone Wars and Star Wars Rebels. He also described Solo as the first live-action Star Wars that felt like a random adventure rather than the usual "Empire versus Rebellion" struggle.[71] The Hollywood Reporter's reviewer Michael Rechtshaffen described the film as "an origins story that represented a return to the saga's more humble, original space Western roots which emphasized character development over kinetic, adrenaline–fueled action sequences." He also praised Alden Ehrenreich's performance as Han Solo and Ron Howard's directorship.[72]
The BBC reviewer Nicholas Barber gave Solo a mixed review; awarding the film three out of five stars. He wrote that Solo was a "Disney-fied, sub-Guardians of the Galaxy adventure: a lightly comic, family-friendly, action-packed, nigglingly sexist popcorn movie." Barber described Ehrenreich's depiction of Solo as a "likeably goofy hero with an irresistible grin and an air of boyish decency", and compared him favorably to Jake Lloyd and Hayden Christensen, who played Anakin Skywalker in the Prequel trilogy.[73] CNN reviewer Brian Lowry wrote that the film had a "messy, flat opening half before rallying and picking up speed down the stretch", which he attributed to the fraught production process. Lowry praised Ehrenreich and Donald Glover's performances as Han Solo and Lando Calrissian respectively, opining that they captured the spirit of the Original trilogy characters.[74]
Solo also received several critical reviews. Vox reviewer Alissa Wilkinson described Solo as the "safest, most forgettable Star Wars movie" and criticized what she termed as the "box-ticking approach to filling Solo's story as distinctly unimaginative."[75] Similarly, National Review critic Kyle Smith dismissed Solo as a "soulless intergalactic freeway pile-up" and criticized the fast-paced nature of the plot.[76]
Poster gallery
Edit
Appearances
Edit
Characters
Creatures
Droid models
Events
Locations
Organizations and titles
Sentient species
Vehicles and vessels
Weapons and technology
Miscellanea
Bibliography
Edit
Notes and references
Edit
↑ 2.00 2.01 2.02 2.03 2.04 2.05 2.06 2.07 2.08 2.09 2.10 2.11 2.12 2.13 2.14 2.15 2.16  Christopher Miller and Phil Lord to Helm Han Solo Anthology Film on StarWars.com
↑ 4.0 4.1 4.2 Roettgers, Janko; Bitran, Tara (March 23, 2018). 'Solo: A Star Wars Story': Phil Lord and Chris Miller Reveal Their Credit. Variety. variety.com.
↑ 8.0 8.1 8.2  Donald Glover Cast as Young Lando Calrissian in Upcoming Han Solo Star Wars Stand-Alone Film on StarWars.com
↑ 9.00 9.01 9.02 9.03 9.04 9.05 9.06 9.07 9.08 9.09 9.10 9.11 9.12 9.13  Han Solo – Smuggler. Scoundrel. Hero. A New Star Wars Story Begins on StarWars.com
↑ 11.0 11.1 Han Solo Movie Composer REVEALED, New Star Wars: The Last Jedi Books, and SDCC! on the official Star Wars YouTube Channel
↑ The 2018 Official Selection. festiva;-cannes.com (April 12, 2018). Retrieved on April 12, 2018.
↑ Army of the Lost Horizon by Steven Scaia. Kickstarter. Retrieved on June 27, 2017.
↑ Rottenberg, Josh (December 3, 2015). Star Wars screenwriter Lawrence Kasdan on the past, present and future of 'Star Wars'. Los Angeles Times. Retrieved on December 14, 2015.
↑ Zakarin, Jordan (May 15, 2018). The most important line in Solo: A Star Wars Story was the first one written. syfy.com.
↑ 20.0 20.1 Breznican, Anthony (February 12, 2018). How Treasure Island, The Big Lebowski, and Heat inspired Solo: A Star Wars Story. Entertainment Weekly. ew.com. Retrieved on February 12, 2018.
↑ 21.0 21.1 21.2 Prell, Sam (April 28, 2018). The Solo: A Star Wars Story writers discuss the film's tone: "We're not dealing with the spiritual side". SFX #300. gamesradar.com.
↑ Kroll, Justin (January 11, 2016). 'Star Wars' Han Solo Spinoff: Actor Shortlist Revealed (EXCLUSIVE). Variety. Retrieved on January 11, 2016.
↑ Pappademas, Alex (Appril 24, 2018). Alden Ehrenreich Is Ready to Prove He's Worthy of Han Solo. esquire.com.
↑ Schmidt, Joseph (April 17, 2018). 'Solo: A Star Wars Story' Actor Not Doing a Harrison Ford Impression. comicbook.com. Retrieved on April 20, 2018.
↑ Breznican, Anthony (February 07, 2018). Harrison Ford was a covert adviser to Solo: A Star Wars Story. Entertainment Weekly. ew.com. Retrieved on February 7, 2018.
↑ Roberts, Dustin (January 30, 2017). The Han Solo Film Has Begun Filming!. TheForce.net. Retrieved on January 30, 2017.
↑ Carera, Antonio (March 11, 2017). Disney inicia el montaje de la zona de rodaje para la película 'Star Wars'. laprovincia.es. Retrieved on March 13, 2017.
↑ McMillan, Graeme (April 11, 2017). 'Star Wars' Charity Campaign Offers 'Last Jedi' Premiere Trip and Han Solo Movie Role. The Hollywood Reporter. Retrieved on April 11, 2017.
↑ Breznican, Anthony (June 22, 2017). How the Han Solo film broke apart — with Ron Howard picking up the pieces. Entertainment Weekly. Retrieved on June 26, 2017.
↑ Coyle, Jake (May 17, 2018). In 'Solo,' a battle for the soul, and tone, of 'Star Wars'. abcnews.go.com.
↑ 32.0 32.1 @RealRonHoward (Ron Howard) on Twitter. "Glad you are asking for one! I directed @WarwickADavis for the 1st time in 30 years today. It made me happy"
↑ Breznican, Anthony (June 23, 2017). Ron Howard on 'Star Wars' Han Solo Movie Directing Gig: 'I've Been a Fan Forever'. Variety. Retrieved on June 26, 2017.
↑ Michael Kenneth Williams' Role Cut From Star Wars Han Solo Movie Amid Reshoots. Deadline Hollywood. Retrieved on September 2, 2017.
↑ Breznican, Anthony (February 9, 2018). Ron Howard: A Star Wars Story. Entertainment Weekly. Retrieved on February 9, 2018.
↑ Ramos, Dino-Ray (2017-10-14). 'Star Wars': Ron Howard Teases Fan Favorite Characters For Han Solo Spinoff. Deadline Hollywood. Retrieved on October 15, 2017.
↑ Breznican, Anthony (2017-10-17). The Han Solo movie has a title — Solo. Entertainment Weekly. Retrieved on October 17, 2017.
↑ Chichizola, Corey (March 31, 2018). Ron Howard Clarifies Status Of Solo: A Star Wars Story. cinemablend.com. Retrieved on March 31, 2018.
↑ Agar, Chris (April 22, 2018). Post-Production Has Wrapped On Solo: A Star Wars Story. screerant.com. Retrieved on April 22, 2018.
↑ Burlingame, Jon (December 30, 2017). 'Solo' Locks In Key 'Star Wars' Veteran (EXCLUSIVE). Variety. variety.com. Retrieved on December 30, 2017.
↑ Kendrick, Ben (April 7, 2018). Solo: A Star Wars Story Full Trailer Releasing During American Idol. cbr.com.
↑ Chuba, Kirsten (May 4, 2018). 'Solo: A Star Wars Story' Fandango Presales Double 'Black Panther's' Haul. variety.com.
↑ Couch, Aaron (April 05, 2018). 'Solo: A Star Wars Story' to Premiere at Cannes. hollywoodreporter.com. Retrieved on April 5, 2018.
↑ McNary, Dave (May 3, 2018). 'Solo: A Star Wars Story' Tracking for Huge $170 Million Memorial Day Launch. variety.com.
↑ Breznican, Anthony (April 20, 2018). Han, Lando, and Chewie swagger in exclusive new images from Solo: A Star Wars Story. ew.com.
↑ Empire's Solo: A Star Wars Story Subscriber Cover Revealed. empireonline.com (April 13, 2018). Retrieved on April 22, 2018.
↑ Kilkenny, Katie (May 3, 2018). Ron Howard Says George Lucas Suggested Change to 'Solo: A Star Wars Story'. hollywoodreporter.com.
↑ McCarthy, Kelly (May 4, 2018). Ron Howard reveals 2 beloved characters have a 'rocky start' in 'Solo: A Star Wars Story'. abcnews.go.com.
↑ 53.0 53.1 Turchiano, Danielle (April 14, 2018). 'Saturday Night Live' Books Donald Glover as Host and Musical Guest. Retrieved on April 22, 2018.
↑ Breznican, Anthony (May 7, 2018). Chewbacca will get his own theme music — and more Solo revelations from Ron Howard. ew.com.
↑ Brown, Tracy (May 12, 2018). At the 'Solo: A Star Wars Story' news conference, Ron Howard answers the one question on everyone's mind. latimes.com.
↑ LaSalata, Justin (May 13, 2018). Video Of 'Solo' Press Conference & Costume Display. jedinews.co.uk.
↑ @starwars (Star Wars) on Twitter. "The cast of Solo: A Star Wars Story will be answering your questions on Twitter this Saturday. Reply or tweet using #AskSolo."
↑ Jimmy Kimmel Live! (May 4th, 2018). Solo: A Star Wars Story Stars Are Coming to Jimmy Kimmel Live!. abc.go.com.
↑ Beck, Kellen (March 6, 2017). 'Solo: A Star Wars Story' partners with the best brand possible: Solo cups. mashable.com.
↑ 60.0 60.1 Solo: A Star Wars Story exclusive trading cards, available only at Denny's! on the Denny's YouTube channel
↑ Burwick, Kevin (April 8, 2018). Chewbacca Robs a Train in New Han Solo Renault Commercial. movieweb.com.
↑ Hayner, Chris (March 5, 2018). Artist Claims Han Solo Movie Posters Plagiarize His Art. Gamespot. Retrieved on March 5, 2018.
↑ Parker, Ryan (March 5, 2018). Disney "Looking Into" Allegations of Design Theft Over 'Solo' Posters. The Hollywood Reporter. Retrieved on March 9, 2018.
↑ Sharf, Zack (March 6, 2018). Disney Accused of Plagiarizing 'Solo: A Star Wars' Posters From French Artist Hachim Bahous. IndieWire. Retrieved on March 9, 2018.
↑ Dedmon, Tanner (April 23, 2018). Lucasfilm Sued Over 'Star Wars' Card Game Dispute. ComicBook.com.
↑ Smith, Neil (May 16, 2018). Solo film brings Star Wars back to Cannes. BBC. Retrieved on May 17, 2018.
↑ Solo: A Star Wars Story. Rotten Tomatoes (May 17, 2018). Retrieved on May 17, 2018.
↑ Mendelson, Scott (May 15, 2018). 'Solo' Review: A 'Star Wars' Story That Plays Like An 'Indiana Jones' Movie. Forbes. Retrieved on May 17, 2018.
↑ Rechtshaffen, Michael (May 15, 2018). 'Solo: A Star Wars Story': Film Review. The Hollywood Reporter. Retrieved on May 17, 2018.
↑ Template:Cite web error: parameters url and title must be specified.
↑ Lowry, Brian (May 16, 2018). 'Solo' takes flight after rocky liftoff for 'Star Wars' prequel. CNN. Retrieved on May 17, 2018.
↑ Wilkinson, Alissa (May 16, 2018). Solo: A Star Wars Story is the safest, most forgettable Star Wars movie. Vox. Retrieved on May 17, 2018.
↑ Smith, Kyle (May 15, 2018). Solo: Soulless. National Review. Retrieved on May 17, 2018.
↑ 77.0 77.1 Ridgely, Charlie (March 23, 2017). Star Wars: Woody Harrelson Reveals Who He's Playing In Han Solo Movie. ComicBook. Retrieved on March 23, 2017.
↑ 78.0 78.1 Miller, Julie (August 22, 2017). Michael K. Williams Has a Story You Need to Read to Believe. Vanity Fair. Archived from the original on August 23, 2017. Retrieved on August 22, 2017.
↑ 79.0 79.1 LaSalata, Justin (February 5, 2018). 'Solo' Character Names For Thandie Newton & Phoebe Waller-Bridge. Jedi News. Retrieved on February 5, 2018.
↑ 80.0 80.1 Breznican, Anthony (2018-02-05). Solo: A Star Wars Story trailer explained. Entertainment Weekly.
↑ @RealRonHoward (Ron Howard) on Twitter. "The Outer Rim just got a little bit wilder #PaulBettany #ForceFriday"
↑ @RealRonHoward (Ron Howard) on Twitter. "It's my third opportunity to work with Paul. He's a blast & so talented"
↑ 83.0 83.1 83.2 Breznican, Anthony (2018-02-07). Solo: A Star Wars Story soars on this week's EW cover. Entertainment Weekly.
↑ 84.0 84.1 84.2 84.3 @JonKasdan (Jon Kasdan) on Twitter. "Thank You, Kevin. I'm a huge fan and I had to get 'em in there, and then had to play it myself (with Toby Hefferman) to do it justice"
↑ @RealRonHoward (Ron Howard) on Twitter. "Wondering why we r all together? @Jon_Favreau is voicing a very cool & important alien character for #HanSolo Flattered & fortunate I could pull him away from his #LionKing directing duties"
↑ 86.0 86.1 @Jon_Favreau (Jon Favreau) on Twitter. "My character in #StarWars #Solo is ready to roll."
↑ M. Colbert, Stephen (2018-02-05). Solo: A Star Wars Story Trailer Breakdown. Screen Rant.
↑ Kroll, Justin (2017-03-24). 'Sing Street' Star Ian Kenny Joins Han Solo Movie (EXCLUSIVE). Variety.
↑ McNary, Dave (2017-08-03). Han Solo Movie: Clint Howard to Appear in 'Star Wars' Spinoff. Variety.
↑  Solo: A Star Wars Story (Card: Enfys Nest)
↑ 91.0 91.1 Capehart, Jonathan (May 4, 2018). 'I'm not convinced I'm dead': Mark Hamill on Luke's fate, Trump vs. Vader and more. SoundCloud. soundcloud.com.
↑ Ryan, Mark (May 12, 2018). Is Anthony Daniels In 'Solo: A Star Wars Story'? Jonathan Kasdan Gives Us An Unexpected Answer. uproxx.com.
↑ @realjimmyvee (Jimmy Vee) on Twitter. "Three weeks until solo release . Watch out for yours truly! Inside another DROID. #solo#starwars#jimmyvee"
↑ Chitwood, Adam (October 31, 2016). Cinematographer Bradford Young Teases "Unexpected" and "Dramatic" Young Han Solo Movie. collider.com. Retrieved on November 1, 2016.
↑ 95.0 95.1 95.2 95.3 95.4 Celestino, Mike (May 16, 2016). INTERVIEW: "Solo: A Star Wars Story" screenwriters Jon and Lawrence Kasdan on the need for a Han Solo origin story. InsidetheMagic.com. Retrieved on May 17, 2018.
↑ 96.0 96.1 96.2 96.3 Heine, Rachel (March 8, 2016). The STAR WARS Prequel is a Chewbacca and Han Origin Story (Report). Nerdist. Retrieved on March 8, 2016.
↑ 98.0 98.1  Check out Val, Therm Scissorpunch, and Moloch! #SoloAStarWarsStory #StarWars. Jason Ward (April 2, 2018).
↑ Mistroff, Michael (April 2, 2018). Topps Card Confirms 'Solo: A Star Wars Story' Villain Name. Heroic Hollywood. Archived from the original on April 3, 2018. Retrieved on April 2, 2018.
↑  Check out Argus, Mudtrooper and Six Eyes! #SoloAStarWarsStory #StarWars. Jason Ward (April 2, 2018). Retrieved on April 2, 2018.
↑ 101.00 101.01 101.02 101.03 101.04 101.05 101.06 101.07 101.08 101.09 101.10 101.11  Official Trailer on StarWars.com
↑  Rebolt on LEGO.com (backup link)
↑ 104.0 104.1 104.2 104.3  Quay Tolsite on LEGO.com (backup link)
↑ 105.00 105.01 105.02 105.03 105.04 105.05 105.06 105.07 105.08 105.09 105.10 105.11 Solo: A Star Wars Story "Ride" (:30) on the official Star Wars YouTube Channel
↑ 106.0 106.1 106.2 106.3 106.4 Breznican, Anthony (2018-02-16). EW Solo the Official Guide by Pablo Hidalgo. Entertainment Weekly.
↑ 107.00 107.01 107.02 107.03 107.04 107.05 107.06 107.07 107.08 107.09 107.10 107.11 107.12 107.13 107.14 107.15 107.16 107.17 107.18 107.19 107.20 107.21 107.22 107.23 107.24 107.25 107.26 107.27 107.28 107.29 107.30 107.31 107.32 107.33 107.34 107.35 107.36 107.37 107.38 107.39 107.40 107.41  "Big Game" TV Spot - Solo: A Star Wars Story on StarWars.com
↑ 110.0 110.1 110.2 110.3 110.4 110.5 110.6 110.7 110.8 110.9 Breznican, Anthony (2018-02-07). Solo: A Star Wars Story: New images and insight. Entertainment Weekly.
↑ 111.0 111.1 111.2 111.3 111.4 111.5 111.6  Official Teaser - Solo: A Star Wars Story on StarWars.com
↑ 112.0 112.1 Breznican, Anthony (April 20, 2018). Solo: A Star Wars Story: Han and Lando swagger in exclusive new images. Entertainment Weekly. ew.com. Retrieved on April 23, 2018.
↑ 113.0 113.1 113.2 @RealRonHoward (Ron Howard) on Twitter. "Those #Corellian nights get a little chilly. Screenwriter @JonKasdan and I try to keep warm #UntitledHanSoloMovie"
↑ 114.0 114.1 114.2 114.3 114.4 Phoebe Waller-Bridge Reveals Secrets Behind Playing a Star Wars Droid in Solo
↑ Solo: A Star Wars Story "Han Meets Lando" Clip on the official Star Wars YouTube Channel
↑  Dryden Vos in the Databank (backup link)
↑ Whitbrook, James (2018-02-19). All The Amazing New Star Wars Toys From Toy Fair. Gizmodo AU.
↑ 120.0 120.1 120.2 120.3 120.4 120.5 120.6 120.7 120.8 Solo: A Star Wars Story Product Lands at Retail. Yakface (2018-04-09).
↑ Whitbrook, James (2018-02-14). Exclusive: Here Are the First Solo: A Star Wars Story Action Figures, and Lando Is a Masterpiece. io9.
↑ 122.0 122.1  Imperial Pilot on LEGO.com (backup link)
↑  L3-37 in the Databank (backup link)
↑ 125.0 125.1 125.2  Star Wars: Solo (Pack: Enfys Nest's Swoop Bike)
↑  Rio Durant in the Databank (backup link)
↑ 129.0 129.1 129.2 129.3 Best in the Galaxy Sweepstakes—Customize your Solo: A Star Wars Story-inspired Nissan
↑  Imperial patrol troopers in the Databank (backup link)
↑  Imperial Arrestor Cruiser has been cut from Solo. Colin Cantwell (May 20, 2018). Retrieved on May 22, 2018. "Bad news everyone. The #ArrestorCruiser scene has been cut from #solo. I wasn't told the reasoning for this decision, but my ship will still be featured in a Solo book to be released soon. I hope they include the scene in the director's cut as I was very much looking forward to seeing her fly. #colincantwell"
↑ Travis, Ben (April 16, 2018). Paul Bettany's Solo: A Star Wars Story Villain Dryden Vos – Exclusive Look. EMPIRE. Retrieved on April 16, 2018.
↑  Star Wars: Solo (Pack: Han Solo's Landspeeder)
↑ Solo: A Star Wars Story "190 Years Old" Clip on the official Star Wars YouTube Channel
↑ Solo: A Star Wars Story "Holochess" Clip on the official Star Wars YouTube Channel
External links
Edit