Cal Jedi/Status articles
Talk

1
107,673pages on
this wiki
Welcome <insert name here>! Here is a list of the articles I've taken to a particular status.
Featured articles
Edit

(Taken to FA by on January 8, 2012)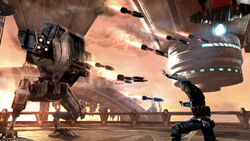 "I was expecting Lord Vader…"
"The Jedi. Where is he?"
"Oh, he's alive. For the moment. He's been in the Arena for seven days."
―Baron Tarko and Starkiller
A rescue mission to free the Rebel Alliance Jedi General Rahm Kota from the Galactic Empire was performed in 1 BBY, during the early stages of the Galactic Civil War. Captured on a failed raid on the planet Cato Neimoidia, Kota was taken to the city Tarko-se, where he was placed in the Tarko-se Arena, the local gladiatorial stadium, for execution. While Kota endured an onslaught of monsters and gladiators, Starkiller, a rogue clone of the late Jedi Galen Marek, escaped from the Sith Lord Darth Vader on the ocean world of Kamino. Unbeknownst to Kota, Vader had initiated a clandestine project to create a more powerful version of his former Sith apprentice Marek—a perfect clone that possessed all of Marek's strengths and none of his weaknesses. However, the cloning process was imperfect and resulted in numerous failures, including Starkiller.
Pursuant of information inadvertently provided by Vader, Starkiller traveled to Cato Neimoidia to rescue the captured Kota. However, his motives were more influenced by a desire to find Captain Juno Eclipse, the woman with whom his progenitor had fallen in love. Starkiller fought against Baron Merillion Tarko's forces on his way to the arena, where he found an exhausted Kota. The desperate Tarko unleashed a beast known as the Gorog on the two Force-wielders, and the creature broke free of its restraints as it attempted to kill Starkiller. In the chaos, Tarko was devoured by the monster, and the arena, along with Tarko-se itself, was destroyed. Starkiller and Kota were retrieved from the falling wreckage by the starship Rogue Shadow, which was on autopilot. (Read more...)

(Taken to FA on January 23, 2012)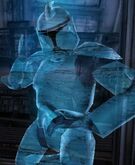 "I've been assigned as your advisor, and will be your eye in the sky until further notice… or we all get killed."
―CC-01/425, to Boss of Delta Squad
CC-01/425 was a clone advisor who served in the Grand Army of the Republic during the Clone Wars. He often found himself tasked with overseeing the operations of Delta Squad, a unit of elite clone commandos that included RC-1138, RC-1140, RC-1207, and RC-1262, with whom he would communicate via hologram and the squad's in-helmet comlinks. The advisor helped them through the Battle of Geonosis in the year 22 BBY, during which Delta Squad killed the Geonosian lieutenant Sun Fac, disabled an underground droid factory, and raided a Lucrehulk-class Core Ship. In the second year of the war, CC-01/425 guided Delta Squad throughout its investigation of the Acclamator I-class assault ship Prosecutor in the Chaykin cluster. In 19 BBY, he also oversaw Delta Squad's opening reconnaissance of the Battle of Kashyyyk, during which it freed the Wookiee Chieftain Tarfful from Separatist-backed Trandoshan slavers. (Read more...)

(Taken to FA on March 23, 2012)
"You will receive the same treatment as the others."
"What others?"
―Darth Vader and Starkiller, just prior to the latter's escape
In the year 1 BBY, a battle was fought on the planet Kamino. After the death of Galen Marek, former apprentice to the Imperial Dark Lord Darth Vader, on the first Death Star battlestation, Vader sought to recreate his apprentice, collecting Marek's corpse and using genetic samples from the body to create a series of clones intended as replacement apprentices. Most of the clones were deformed and insane, though progress was gradually made, and a new generation of increasingly stable clones was created. Vader proceeded to train the clones, though many of these subjects would eventually succumb to the madness that had claimed so many of their predecessors. After one would go insane, Vader simply moved on to train the next clone. One of the clones, called Starkiller, was only the latest in a long line of failures, though he was one of the most promising subjects.
During a training match with a number of Sith Training Droids, Starkiller proved unable to strike down one of the droids when it assumed the shape of Juno Eclipse, Marek's former lover. The inability to overcome the genetic memories of Starkiller's template marked him as a failure, and Vader prepared to execute the clone. However, Starkiller refused to submit and lashed out at Vader with Force lightning, using the Dark Lord's momentary distraction to escape the training complex. Going through the Imperial forces—which included Imperial riot troopers, Jumptroopers, carbonite war droids, and others—garrisoned in Timira City, where he was cloned, Starkiller fought his way to a landing pad. While on his way, he gained some help from stormtroopers on whom he used mind tricks. Once on the landing pad, Starkiller escaped Vader and hijacked the Sith Lord's personal fighter, escaping from the planet. (Read more...)

(Taken to FA on July 23, 2012)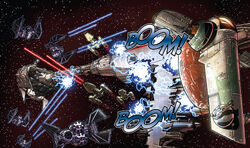 "Ignore the fighters! Our only concern is finding Captain Eclipse."
―Boba Fett, issuing orders to the Imperial strike force
A battle took place near the Itani Nebula in the year 1 BBY when an Imperial strike force launched an attack on a Rebel fleet that was hiding just outside the nebula. After Rebel Jedi General Rahm Kota was rescued from Imperial Baron Merillion Tarko by Starkiller, the clone of Dark Lord of the Sith Darth Vader's late Sith apprentice Galen Marek, Starkiller and Kota traveled to where the Rebel fleet was stationed. The Rebels came under attack there from forces of the Galactic Empire commanded by the bounty hunter Boba Fett, who had first been hired by Vader to kidnap Starkiller himself. However, after failing in that task, Fett was instructed by Vader to kidnap Rebel Captain Juno Eclipse, the lover of the late Marek, in order to lure Starkiller back to the planet Kamino, where Vader awaited.
Fett led the Imperials into the Rebel fleet's flagship, the EF76 Nebulon-B escort frigate Salvation, to capture Eclipse. While a battle ensued outside the starship, another broke out between the attacking Imperials and the Rebel Alliance inside the ship. Starkiller and Kota fought through the interior of the Salvation in an attempt to rescue Eclipse, joining forces with Rebel troopers along the way. Although Starkiller and Kota defeated many Imperials, Fett escaped with his captive. Knowing that he was taking Eclipse back to Kamino, the Rebel fleet pursued. At Kamino, the Rebels and Imperials fought yet another battle as Starkiller made his way to where Vader held Eclipse captive. (Read more...)
Good articles
Edit

(Taken to GA on June 29, 2011)
"Announce yourself first when you come into my office."
―Jagged Fel, after Jaina Solo bursts into his office
The Offices of the Imperial Head of State, also known as the Residence and Quarters of the Galactic Empire Head of State, were a series of luxuriously-decorated offices used by Imperial Head of State Jagged Fel during his stays on Coruscant, the capital planet of the Galactic Alliance. He used the offices for work, as well as to relax from the pressures of politics. (Read more...)

(Taken to GA on October 23, 2011)
"I'm not trying to be your enemy. I'm really not. But the Shipyard docking bay is infested with mynocks."
―Maintenance Logs of Jan Stakross
The Agarees Shipyard Township was a settlement with a docking bay that was infested with mynocks, creatures capable of flight that fed on the energy from power cabling. Corporal Jan Stakross reported in a maintenance log that he knew an individual in a group of beings was taking a T-16 skyhopper down to Agarees Shipyard Township. Stakross, who was the one who had to take care of the T-16 after the mynocks chewed on the cabling, requested that the individual refrain from taking the T-16 to the shipyard. (Read more...)

(Taken to GA on March 10, 2012)
"You can't win. You can kill me—you can kill a hundred like me—but your precious Empire is still doomed. If the Rebels don't bring it down, it'll collapse from its own internal rot. And then where will you be, my arrogant young Imperial agent? Your power will be gone, your protection dead or imprisoned. You already don't have any friends."
―Lamos Chatoor, to Mara Jade
Lamos Chatoor was a male Imperial judge who had served in that capacity for twenty years by 0 ABY. However, he illegally used his position to further himself and his friends. In 0 ABY, he was approached by Emperor's Hand Mara Jade, who planned on executing him for his corruption. Although he attempted to plead and trick his way out of it, Jade killed him with her lightsaber. (Read more...)

(Taken to GA on December 22, 2012)
"It took 85 men less than an hour to bring so much chaos and disarray to Ebenmal that the defenders—over 3,000 Rebels—surrendered."
―Imperial Atrocities and Other Noble Pursuits, by Chen Ming-di
A battle was fought on the planetoid Ebenmal at some point between the years 2 BBY and 1 BBY. A group of Imperials, consisting of eighty-five Jumptroopers, attacked the Citadel of Ebenmal. Over three thousand Rebel soldiers attempted to defend the ancient structure, but the Imperials were able to gain the upper hand and capture the Citadel. The Rebels, in turn, surrendered to the Jumptroopers, bringing the battle to a close in one hour's time. (Read more...)
Comprehensive articles
Edit

(Taken to CA on January 16, 2012)
"This holoprojection was a gift from Queen Ressa of Drezzi to thank Darth Nyriss for her merciful treatment of the royal family when the Empire conquered their world. Her husband was executed, but the queen and her children were spared."
―Sechel, to Scourge
The resurgent Sith Empire conquered the planet Drezzi prior to the year 3,954 BBY. (Read more...)

(Taken to CA on February 6, 2012)
"This holoprojection was a gift from Queen Ressa of Drezzi to thank Darth Nyriss for her merciful treatment of the royal family when the Empire conquered their world. Her husband was executed, but the queen and her children were spared."
―Sechel, to Scourge
A resistance force fought against the Sith Empire on the planet Drezzi sometime prior to the year 3,954 BBY. (Read more...)

(Taken to CA on March 3, 2012)
"Of course you've never lost everything."
"Not everything, no. But I've had my share of losses."
"What, promotions? The last dessert cube in the mess line?"
―Sorro and Gilad Pellaeon
A dessert cube was a food edible by Humans and served in Imperial mess halls by the year 0 ABY. (Read more...)

(Taken to CA on March 20, 2012)
"I've seen some impressive things as a stormtrooper of the Empire. I've seen Star Destroyers tear apart a battlecruiser with just tractor beams. I've seen command ships so big they take three days to walk from end to end. I even saw Lord Vader once. But I think the greatest thing I ever saw was those squat little dropships, flying out of a binary sunset, loaded with reinforcements, ammunition, medical droids and food."
―Imperial stormtrooper
An Imperial Human stormtrooper fought alongside another soldier, HJ-377, against a rebel group sometime before or during the year 1 BBY. (Read more...)

(Taken to CA on April 3, 2012)
"On a good day the rebels would just take pot-shots from the treeline. On a not-so-good day we would be fighting hand-to-hand in the trenches. It was desperate."
A rebel group fought against the Galactic Empire sometime during or before the year 1 BBY. (Read more...)

(Taken to CA on April 17, 2012)
"It took 85 men less than an hour to bring so much chaos and disarray to Ebenmal that the defenders—over 3,000 Rebels—surrendered."
―Imperial Atrocities and Other Noble Pursuits, by Chen Ming-di
Ebenmal was the location of a battle between the Galactic Empire and the Rebel Alliance sometime between the years 2 and 1 BBY. (Read more...)

(Taken to CA on May 25, 2013)
"I swear this sacred oath that I shall render unconditional obedience to Emperor Palpatine, to exercise every power in service to the Galactic Empire, and shall, whensoever I am asked, be prepared, as a loyal servant, to surrender my life for this oath."
―Oath of Obedience
The Oath of Obedience was a vow made for some time between the years 19 and 1 BBY, by riot troopers who were graduating from the Imperial Academy of Yinchorr. (Read more...)

(Taken to CA on May 30, 2013)
"Despite our best efforts, our witness in the upcoming trial of the suspected gangster Wolga the Hutt has vanished without a trace."
―Imperial Judicial Fleet Transmission, concerning Wolga the Hutt
Wolga was a Hutt, a species of hermaphrodites, who was suspected of being a gangster sometime between the years 19 and 1 BBY. (Read more...)

(Taken to CA on June 8, 2013)
"So far we have prevented the Baron from learning of these infractions. But consider this your last warning! If it happens again, you will be facing immediate demotion."
―Official reprimand from Eastern Arch Platoon Leader Ton E'rau, to TK-934
Ton E'rau was the Eastern Arch Platoon Leader for the Galactic Empire on the planet Cato Neimoidia during the time of said government's reign. At some point between the years 19 and 1 BBY, E'rau gave an official reprimand to stormtrooper TK-934 for the fact that several soldiers in TK-934's unit were doing activity against regulations. (Read more...)

(Taken to CA on June 8, 2013)
"I met this Neimoidian in a drinkin' hole on Tatooine. Claimed t'be related to Medd Valii. I looked up this Valii. Seems he was pretty big back in the day. Made money. Lotsa money."
―Adah Meborman
At some point between the years 19 and 1 BBY, a Neimoidian spoke with smuggler Adah Meborman in a drinking hole on the planet Tatooine. The Neimoidian claimed to be related to Medd Valii, who had accrued a large amount of money during his lifetime. In addition, the Neimoidian told the smuggler that Valii's money had been hidden in the form of pure gold in the arch of the city Tarko-se on the planet Cato Neimoidia. (Read more...)

(Taken to CA on June 25, 2013)
"One extremely intoxicated enlisted trooper attempted to eat 50 Spiced Mynock Wings from the buffet. The mess he made of the dropship interior has kept it out of commission for several days. No one can stand the smell!"
―Official reprimand from Eastern Arch Platoon Leader Ton E'rau
A Human male Imperial enlisted trooper was stationed on the planet Cato Neimoidia sometime between the years 19 and 1 BBY. At one point during said time, the stormtrooper became intoxicated and attempted to devour fifty Spiced Mynock Wings. As a result, a dropship was put out of commission for several days due to the smell caused by the mess he made. (Read more...)