Welcome,

<insert name here>

to my user page.Edit
"This story happened a long time ago in a galaxy far, far away. It is already over. Nothing can be done to change it.
It is a story of love and loss, brotherhood and betrayal, courage and sacrifice and the death of dreams. It is a story of the blurred line between our best and our worst.
It is the story of the end of an age.
A strange thing about stories:
Though this all happened so long ago and so far away that words cannot describe the time or the distance, it is also happening right now. Right here.
It is happening as you read these words."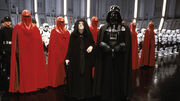 Name: TIEPilot051999(contributions) Also User:154.5.33.194 (contributions), User:154.5.43.249 (contributions) and User:75.89.2.122 (contributions)
Real Name: Alexander Johnathan Severinski.
Date of Birth: 7 ABY (1984)
Favorite Star Wars Movie: Revenge of the Sith.
Top Ten Favorite Star Wars Books: Death Star, Coruscant Nights I: Jedi Twilight, Coruscant Nights II: Street of Shadows, The Force Unleashed, Tatooine Ghost, The Unifying Force, Shadows of the Empire, Specter of the Past, Vision of the Future, Labyrinth of Evil.
Top Ten Favorite film Star Wars Characters: Anakin Skywalker/Darth Vader, Palpatine, Wedge Antilles, Luke Skywalker, Boba Fett, Obi-Wan Kenobi, General Grievous, Chewbacca, R2-D2, Jango Fett.
Top Ten Favorite Star Wars Legends Characters: Mitth'raw'nuruodo, Nom Anor, Mara Jade, Corran Horn, Jaina Solo, Galen Marek, Tycho Celchu, Quinlan Vos, Kyle Katarn, Aayla Secura.
Star Wars Books/Comics I Own
Edit
Everything you ever wanted to know about Alexander Johnathan Severinski (but didn't care enough to ask):
| | |
| --- | --- |
| en | This user is a native speaker of English. |
| | |
| --- | --- |
| WP | This user is a current or former Wikipedian and is familiar with wiki formatting. |
| | |
| --- | --- |
| 31 | This user is 31 years old. |
| | |
| --- | --- |
| 5+ yr. | This user has contributed to Wookieepedia for more than five years. |
| | |
| --- | --- |
| | This user is happy to assist other users in resolving disputes and interpersonal conflicts. |
| | |
| --- | --- |
| | This user supports the 501st Legion, a world-wide organization of Star Wars fans involved in costuming, promotional events, and charities. |
| | |
| --- | --- |
| | This user is a Star Wars gamer. |
| | |
| --- | --- |
| | This user is a Fleet Junkie and has considerable interest in ships, fleets, and starfighters. |
| | |
| --- | --- |
| | This user is a tech enthusiast, with a keen interest in all the inner workings of the Star Wars galaxy. |
| | |
| --- | --- |
| | This user has an interest in the natural sciences (biology, chemistry, physics, astronomy, and geology) of the galaxy. |
| | |
| --- | --- |
| | This user supports the CIS. |
Star Wars Games I Own
Edit
Quotes of the Day I've Nominated:
Edit