Trak Nar/Portfolio
Talk

0
103,519pages on
this wiki
(Disclaimer: Format stolen from Menkooroo, who stole it from Cavalier One, who in turn stole it from Thefourdotelipsis, who in turn stole it from Eyrezer. Feel free to steal it yourself, but just be sure to credit... somebody.)
This is Trak Nar's portfolio of Comprehensive, Good, and Featured Articles. This is a work-in-progress.
Featured Articles
Edit
Zuckuss was a successful Gand bounty hunter who was active during the height of the New Order. Referred to as "The Uncanny One" by his fellow hunters, Zuckuss was renowned for his ability to discover hidden quarry. His tracking skills derived both from his training as a findsman and from his innate Force-sensitivity, which allowed him to sense individuals at range and decipher the motives of his prey. Due to his famed abilities, Zuckuss was highly sought after, and he found employment with the Bounty Hunters' Guild, the Hutt Cartel, TaggeCo, and even the Rebellion for a time.

During his long career, Zuckuss worked with many associates but was known primarily to partner with the droid 4-LOM. The two made a formidable bounty hunting team and were successful in retrieving the Yavin Vassilika, over such opponents as Bossk and Dengar. Though the partnership was forged under the insistence of Jabba the Hutt, Zuckuss and 4-LOM eventually bonded, with 4-LOM staying loyal to Zuckuss after the Gand was critically injured during the Galactic Civil War. In order to pay medical expenses, Zuckuss and 4-LOM took a job from the Rebel Alliance to pursue Governor Nardix, which eventually attracted the attention and incurred the wrath of the Empire. However, the pair's involvement in that affair was overlooked when they were hired by Darth Vader to find the Millennium Falcon after the Battle of Hoth. Zuckuss and 4-LOM planned to infiltrate the Alliance under the guise of rescuers, bringing with them the surviving passengers of a downed Rebel transport to the rendezvous point, hoping to kidnap Han Solo then. However, the rival bounty hunter, Boba Fett managed to capture Solo prior on Cloud City.

Shortly afterward, Zuckuss decided to join the Alliance, partly in gratitude for the necessary treatment he had received on board the medical frigate. He and 4-LOM worked as covert operatives for a time, and they attempted to rescue the carbonite-encased Solo from Fett before the hunter could deliver him to Jabba on Tatooine. The pair had failed in their mission and the outcome resulted in the destruction of 4-LOM. Zuckuss had attempted to repair his comrade, but he needed to perform a complete memory wipe in order to do so, which changed the droid's personality. After their final hunt for the gambler Drawmas Sma'Da, Zuckuss and 4-LOM parted ways, with Zuckuss relocating to the Outer Rim Territories for a time. Somewhat of a Rebel sympathizer, Zuckuss eventually began to hunt primarily for New Republic targets near the end of his career.

Although incredibly successful, Zuckuss was not without his flaws. He was diagnosed with schizophrenia, and an advanced case of multiple personality disorder, which caused him to speak in two different dialects. He was eventually incarcerated in a penal facility on Coruscant, under the scrutiny of New Republic psychiatrists. Despite his mental health and later imprisonment, Zuckuss became popular on his homeworld of Gand, eventually inspiring an entire generation of Gand bounty hunters to seek success off-world. Read more ...

4-LOM was an ambitious protocol droid who overwrote his own programming in order to embark on a life of crime. A LOM-series droid, 4-LOM's first assignment was aboard a luxury liner named the Kuari Princess, where he served as a translator between the vessel's wealthy passengers and its computer. He found this work to be mundane and undemanding, and after the Kuari Princess's computer altered his programming, 4-LOM began to steal from the passengers. Eventually, he left the Kuari Princess for good, becoming an expert thief, information broker, and, after Jabba Desilijic Tiure altered his programming further, a highly-successful bounty hunter.

Jabba paired 4-LOM with another hunter named Zuckuss, and together they claimed several high-profile bounties for the Hutt Cartel. Although 4-LOM had initially only partnered with Zuckuss in order to learn the Gand's intuitive findsman abilities, the two bonded, and the droid stayed loyal to Zuckuss after the Gand was critically injured during the Galactic Civil War. Desperate for the funds necessary to heal Zuckuss, the pair incurred the wrath of the Galactic Empire when they accepted a bounty on Nardix, an Imperial governor. However, Darth Vader ignored this fact when he enlisted their aid during the hunt for Han Solo. 4-LOM and Zuckuss conspired to infiltrate the Rebel Alliance, hoping to kidnap Solo at the Rebel rendezvous point, though Boba Fett managed to capture the bounty before them.

After the Rebels healed Zuckuss, the two bounty hunters joined the Alliance and attempted to rescue Han Solo from Boba Fett before the Mandalorian could deliver him to Jabba the Hutt. They failed utterly, though, and 4-LOM was left badly damaged. Zuckuss restored him, but had to perform a complete memory wipe to do so; the idealism that led the droid to join the Rebellion was gone, and 4-LOM no longer remembered his aspirations of achieving intuition and mastering the Force. He became a cold, calculating individual, and took bounties from unsavory employers such as Quaffug—he also left the Rebel Alliance and severed ties with Zuckuss. The two did perform one last hunt together, capturing Drawmas Sma'Da for a sizable sum of money, though from that point on, 4-LOM worked alone. Read more ...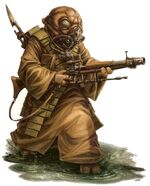 The Gands, or Gand were a sentient species of humanoids that xenobiologists believed had evolved from an insect genus that inhabited the ammonia-gas planet of Gand. Several physical varieties of the species existed, differing from one another in the structure of the head and the texture and color of the exoskeleton, but the species was usually divided into two main subspecies: those with lungs and those without. Gands with such organs were adapted to their homeworld's atmosphere, but like Kel Dors, required specialized breathing gear if they wanted to leave Gand to manage potentially poisonous offworld gas mixtures. Gands without lungs, however, did not respire and were immune to poisonous gases; thus they could venture offworld without worry of suffocation. Both races possessed an exoskeleton and regenerative properties.
Gands were considered by galactic society to be a very humble species, a trait resultant of their culture, which dictated that an individual's identity had to be earned. Accordingly, most Gands were self-deprecating and polite, and usually referred to themselves in the third person. First-person pronouns were reserved for the most legendary of Gands, as the usage presumed that one was so renowned that everyone knew one's name. However, an accomplished Gand often responded with humility if praised and even downplayed his or her achievements.
Within Gand culture was one of the species' more notable professions: the findsmen. Shamanistic bounty hunters, these Gands tracked their quarry by divining omens sent to them via rituals based around the religious worship of the thick ammonia mists that covered their homeworld. Although their methods were sometimes viewed as arcane, the accuracy of the findsmen was considered unsettling to the casual observer. Zuckuss, a bounty hunter, and Ooryl Qrygg, a pilot in Rogue Squadron, were two notable Gands. Read more ...
Good Articles
Edit
| | |
| --- | --- |
| Hahrynyar was a male Wookiee who worked as a slave for the Galactic Empire during the construction of the first Death Star, where he served as the shift chief on a subsector of Sector N-One on the armored battlestation. In 0 BBY, during the construction, Hahrynyar ordered an extra exhaust port installed, which led him into a confrontation with Teela Kaarz, a Mirialan architect, over the placement of the port. Although the Wookiee took ill with a suspected parasitic infection before any change to the station's blueprints could be made, the exhaust port was ordered and installed as he had planned, a development that presented the Rebel Alliance with the means to destroy the Death Star. Read more ... | The incremental-sequence bomb was an explosive device that was designed to detonate in sequences. The detonation patterns began as minor explosions and became more powerful with each subsequent explosion such that the final explosion was capable of destroying most starships. An incremental-sequence bomb was installed within a decoy vessel of the bounty hunter Boba Fett's starship, the Slave I. Around 1 ABY, fellow bounty hunters Bossk and Zuckuss boarded the decoy ship in the space outside the Bounty Hunters' Guild's headquarters to confirm whether Fett was on board; however, they discovered the ship to be a fake and accidentally triggered the bomb. Bossk and Zuckuss barely made their escape in time and were forced to put in for repairs after the bomb disabled Bossk's ship, the Hound's Tooth. Read more ... |
Comprehensive Articles
Edit
| | |
| --- | --- |
| A name that was described as "(sharp keening at 85 cycles, followed by five atonal mandible clicks)" was highlighted to be the fifth most popular infant name in a list compiled sometime in the year 22 BBY. The name—along with the names Losibaru, Janara, Barada, and Gaeriel—was listed in a recurring column called "A Closer Look," which was featured in the forty-ninth installment of the CoCo District edition of the HoloNet News's 531st volume. Read more ... | Around 0 ABY, shortly after the Battle of Yavin, Cradossk, the Trandoshan leader of the Bounty Hunters' Guild, mentioned the lizard dance when his son, Bossk, entered his chamber in the Guild's complex. Cradossk was celebrating Boba Fett's decision to join the Guild and was drunk on wine when he said that he and Bossk would do this dance around the courtyard. Read more ... |