Welcome,

<insert name here>

!
Please feel free to leave me a message! On most occasions, I'll respond on your talk page. However, check back here if you do not receive a reply, as I may have decided to reply here.
Meeting 49
Edit
Hilarious Entertaining AC Meeting 49™ is scheduled for August 25 at 8 PM UK time like usual. Please make an effort to show up. Cheers, 1358 (Talk) 22:49, August 17, 2012 (UTC)
Confer on you the level of Jedi Knight, the Council does
Edit
Wookieepedia

"The hallmark of a well-managed organization is not the absence of problems, but whether or not problems are effectively resolved."

Congratulations on becoming an Administrator!

Hi there, and welcome to the Administration. You've been elected to this position because the community feels that you possess the qualities and integrity which is required of Wookieepedia's administrators. We look forward to having you as part of the team.

As a new administrator, there are some things that you should be aware of before using your newly granted sysop tools. The following links will provide you various overviews of what it means to be an administrator, and will guide you in using your sysop tools. Likewise, don't be afraid to ask more experienced administrators, via their talk pages, IRC, or the administrator mailing list, if you have any questions or concerns about the position.

Administrator links

---
Allow me to be the first to congratulate and welcome you, Cal, Jedi Knight, to the team! Well deserved, and well done! Toprawa and Ralltiir (talk) 00:20, August 25, 2012 (UTC)
Also, feel free to add your name to Wookieepedia:Administrators. Toprawa and Ralltiir (talk) 00:23, August 25, 2012 (UTC)
Pardon for not being around to offer my support, but you are worthy of the administratorship here. Congratuations Cal! --

Riffsyphon

1024

21:42, August 25, 2012 (UTC)

No worries, and thanks, Riff. :) —Cal Jedi (Personal Comm Channel) 21:59, August 25, 2012 (UTC)

Congratulations, Cal.--

Exiled Jedi

(Greetings)

18:26, August 26, 2012 (UTC)

Many thanks, EJ.—Cal Jedi (Personal Comm Channel) 20:19, August 27, 2012 (UTC)
Category:Titan Magazine [sic] comics
Edit
If yourself and JangFett insist on deleting, renaming or recreating pages I've created I'd appreciate it if you actually take the time to correctly spell the titles. ''Category:Titan Magazine comics'' should in fact be ''Category:Titan Magazines comics'' as that is the name under which the company is registered. Jartka'irn (talk) 02:06, August 26, 2012 (UTC)
TOR avatar
Edit
I just joined up and plan to start adding as much as i can to the wonderful repository of SW knowledge. but i was wondering if there is any way for me to make my avatar a pic of my SWTOR sorcerer? not really a big deal but my character is named Siazen and i thought it would be cool.
Let me know, LordSiazen --LordSiazen (talk) 20:14, August 28, 2012 (UTC)
Remove personal Info from old user page.
Edit
Hey Cal Jedi this is Jedi Master King. First of all congrats on becoming an administrator! I have a problem I hope you can help me with. I was Googleing my name and came across my old user name JediKing. I found it because of the Falcon templet, this user has voluntarily left Wookipeedia. When I clicked on the link it brought me to the page which as a thumbnail picture of me on it. Since I don't monitor that page any more is there a way it can be deleted or have my personal information taking off of it e.g. my job and home town? Thank you for your help.--JediMasterKing'

(Personal Temple Comm Channel) 15:56, August 31, 2012 (UTC)
What gives!?
Edit
Hey! Why has my edit constantly been deleted? EVERY SINGLE edit I make it gets deleted! What the problem here?DroidArmyFan123 (talk) 03:55, September 8, 2012 (UTC)
Re:Birthday
Edit
Hey I was just wondering is there anyway to change yr username?also I think it's great yr a baptist I'm catholic.oh nd BTW hv u read the Thrawn Trilogy? (HG girl on fire (talk) 05:59, September 12, 2012 (UTC))
Character Template request
Edit
Hello Cal Jedi. I wanted to know if I'm authorized to create a Character Infobox for the Mantellian Separatist Movement faction's characters. So far, I've noticed around 10 possible characters needing the infobox as none other seems to fit in (that includes the Sith Empire characters infobox). Should I really create a new character infobox or just use one of the existant? Looking forward to your answer. Thanks in advance. Winterz (talk) 18:23, September 13, 2012 (UTC)
The next time you watch Episode 2 listen to what the clone trooper says after Yoda order the clones to fire on the nearest star ship. Then you will know about sector 515.
Fe Nite (talk) 23:47, September 13, 2012 (UTC)Fe Nite
CA question
Edit
Hello there! If a Comp article goes over 250 words after an update, does it need to go on the review page? Corellian Premier

All along the watchtower 02:45, September 18, 2012 (UTC)
Meeting 52
Edit
Inq meeting 52 is scheduled for 7 PM ET next Saturday. Be there if you can. IFYLOFD (Floyd's crib) 00:23, September 23, 2012 (UTC)
hi
Hi Cal jedi ! (Sorry for my bad english, I'm french...) I send you this message because I unable to upload pictures. I tried many times to upload a picture making sure I fulfilled all criteria well, but it still does not work. And I have this message : "<This action has been automatically identified as harmful, and therefore disallowed. If you believe your edit was constructive, please inform an administrator of what you were trying to do. A brief description of the abuse rule which your action matched is: Combined unverified user upload prevention
>", so I followed this advice... What should I do ? Thank you for answering !
Maguinic (talk) 17:28, October 4, 2012 (UTC)
Re: Images
Edit
Hi again Cal Jedi, and thank you for answering ! So (if I understand correctly), if I want to upload files I have to make some edits, and that's all ? So I could reach a "new status" which will allow me to upload files ? If this is the case, could you give me access to this status so that I can upload pictures ? Because in fact, if I am registered on this wiki, this is mainly to upload pictures. It is only in this domain (domain of pictures) that I can make my contribution to this wiki. I just downloaded lot of news pictures from "The Essential Reader's Companion" wich are not yet listed on this wiki and I would like to upload them, but I can't... Thank you for your patience, and see you soon !
Maguinic (talk) 19:03, October 5, 2012 (UTC)
Ok well, I'll wait and make a few edits the time that I can upload images. Thank you again Cal Jedi !
Maguinic (talk) 10:42, October 7, 2012 (UTC)
What rules?
Edit
List down the rules and i'll fix it. Really list them all down. --Edak Trebmil (talk) 15:59, October 8, 2012 (UTC)
AC Meeting 51
Edit
Hey Cal. Meeting 51 is scheduled for this Saturday, the 20th. Make sure to come as your favorite Jedi Council member, or leave notes if you can't attend. Hope to see you there! Eeth Koth (talk) 01:32, October 15, 2012 (UTC)
I made a new forum topic but it didn't appear. Was it deleted? I did indeed read through the forum rules and I'm not exactly sure how my post was an infraction of them. Could you clarify? --Janemba4eva (talk) 20:24, October 20, 2012 (UTC)
I see. I guess I kind of wanted to see if someone more learned in Star Wars literature would have an explanation, backed by evidence that was not apparent in the films. If I remake the thread asking for evidence instead of "thoughts," that should be appropriate, right? --Janemba4eva (talk) 20:33, October 20, 2012 (UTC)
Hi, I am not a newcomer I have been making edits to the site for about 4 years, I just didn't know you could make a profile until a few days ago. I have a vast knowledge of Star Wars, and I would love to make the site better!
Meeting 53
Edit
Hey Cal,
An early heads-up that Inq Meeting 53 has been scheduled for Saturday, November third at the usual time. Hope to see you there, and if not, be sure to leave some notes beforehand. Cheers. Menkooroo (talk) 12:14, October 21, 2012 (UTC)
Gamorrean dancer
Edit
Hey, could you check your objections to Unidentified Gamorrean dancer on the CAN page? Thanks, 501st dogma(talk) 12:34, October 21, 2012 (UTC)
Done and done.—Cal Jedi (Personal Comm Channel) 00:08, October 22, 2012 (UTC)
Interview
Edit
Hey, Cal,
MJ recently contacted me about possibly interviewing him, as a new admin, for Wookieepedia NewsNet. It made me realize that nobody interviewed you after your election, but hopefully we can make it up to you. Would you be interested in doing a (belated) interview, too? I'd probably include both interviews in a super-article called "Wookieepedia's two newest admins" or something. Let me know if you're interested. Menkooroo (talk) 05:55, October 22, 2012 (UTC)
Ummmm probably e-mail, unless you'd prefer it here. I'll have some questions cooked up within the next few days. Thanks for agreeing to do this! Menkooroo (talk) 01:24, October 24, 2012 (UTC)
You've been an admin for a few months now. How has it changed your Wookieepedia...ing?

Not too much. I do admin duties, such as deleting pages, protecting pages, or blocking when necessary. Beyond that, my editing has remained about the same.

Was the position ever something for which you hoped, or to which you aspired?

When I first joined Wookieepedia, I had a strong desire to become an admin. However, after hanging around for a bit, I got wrapped up in editing and kind of ignored my original idea of becoming an admin. I did always have that hope in the back of my head, though, and eventually I got the opportunity to become an admin. So I accepted, hoping that the position would help me to benefit Wookieepedia more.

Kind of a vague question, but overall, how would you describe your time on Wookieepedia since you became an active contributor early last year?

If I could only choose one word, it would probably be "awesome." Yes, it's had its rough times when being here wasn't so much fun. Overall, though, it really was a great experience. I don't regret the past time I've put into Wookieepedia. It's been fun and rewarding.

Borrowing a question from Hanzo's interview with Culator earlier this year --- your nomination page had no opposition to be found. What, if anything, would you have come up with to oppose your nomination?

Seeing that there was no opposition, I prefer to imagine that that means there wouldn't be anything worthy to oppose me. :P Realistically, though, I suppose that they could say that I'm not friendly enough to new users. I would, in turn, though, respond by saying that I am very friendly to them. I just don't let them slip by on things that shouldn't happen. People many times confuse discipline with unfriendliness. I will be firm with new user (and established users) if they are breaking the rules. However, there is nothing I enjoy more than seeing those same users someday become great Wookieepedians.

I like to ask this to WOTM recipients, but it seems just as relevant, if not moreso, for admins: What kind of role do you think Wookieepedia plays in the broader SW community?

A great role. We hold the largest collection of Star Wars information that you could ever look for. We are the place that many, many people, including Star Wars authors and other big-wigs, use for their knowledge on this great universe. We're also a great community that consists of hard-working people spending their time on something great trying to make it greater still.

How do you think that role will change in the future?

Hopefully, it will continue about the same. I realize that with Disney taking over the company, there are questions about what will be our future in Star Wars. I think that Wookieepedia will continue to stand as the greatest place for Star Wars fans in the world.

Is there anything about Wookieepedia that you want to see changed/improved upon?

There are always things that could be improved upon here on Wookieepedia. Overall, she runs pretty well, but that's why we have the Consensus track, Mofferences, etc; to help improve upon what is already good.

Any closing words or advice for the Wookieepedia community?

Take it slow. I realize that on a community of this size, there is bound to be fights and disagreements that break out. However, take time to think about what you're doing before doing it. Once something is said, it can't be unsaid. Whatever you do or don't do should be done because it's the best thing to do or not do, not because you have a grudge or you're feeling upset with a particular user or users.
—Cal Jedi

(Personal Comm Channel) 00:28, November 3, 2012 (UTC)
Truthfuly, I have no idea how the IRC works. I've tried to log on, but it won't allow me as I do not have a nickname, and I can't seem to find where to create one. 501st dogma(talk) 20:00, October 24, 2012 (UTC)
I log in and get that my name is an "Erroneous Nickname". How can I get to Nick Serve? 501st dogma(talk) 20:56, October 24, 2012 (UTC)

Even when I use this link it still diplays "Erroneous Nickname". 501st dogma(talk) 21:46, October 24, 2012 (UTC)

It worked, but I can't see other's comments, and it wants me logged in. I also can't seem to add comments. It says "[18:12]-NickServ- You are not logged in. [18:12] == NickServ [NickServ@services.] [18:12] == realname : Nickname Services [18:12] == server  : services. [Atheme IRC Services] [18:12] == End of WHOIS." Is this good, or bad? Sorry to keep bothering you, but any ideas? 501st dogma(talk) 22:14, October 24, 2012 (UTC)
"Star Wars 7"
Edit
Hey Cal, thank you for reframing the discussion about SW Episode VII in the Senate Hall. I certainly did not wish to turn it into a social thread, but I have to admit the risk is very real indeed. We're all getting very nervous about all this. Or at least, I am. --LelalMekha (talk) 15:28, October 31, 2012 (UTC)
Re:Moving
Edit
Sorry. I didn't know that. --Cwagungood (talk) 00:38, November 1, 2012 (UTC)
Reporting
Edit
I just went to the Star Wars Angry Bird page, and the user known as 66.177.128.106 had wiped out the entire page and replaced it with a comment of both the sexual and racial nature. I know you have warned him about vandalizing before, so I thought you should be the one I inform.--Jet Twilights (talk) 00:27, November 11, 2012 (UTC)
Lock request
Edit
Hey Cal! I recently uploaded the transcript of an email conversation I had with Barbara Hambly—which I intend to use in the BtS of several articles. Could you please lock it from editing so I can use it in all safety? Thanks in advance. --LelalMekha (talk) 23:57, November 13, 2012 (UTC)
Done.—Cal Jedi (Personal Comm Channel) 00:00, November 14, 2012 (UTC)

Great. Thank you! ;-) --LelalMekha (talk) 00:11, November 14, 2012 (UTC)

Sure thing. Glad I could help.—Cal Jedi (Personal Comm Channel) 00:12, November 14, 2012 (UTC)
The Clown
Edit
Hey Cal,
I spotted the deletion log in the recent changes, and I thought I should let you know that Unidentified Gamorrean clown is a legit character from the latest TCW episode, and that two pages link to it as a redlink. Although unidentified articles on characters with no lines have been a frequent topic of TC discussion this year, the anon's intentions were definitely good. Cheers. Menkooroo (talk) 23:53, November 19, 2012 (UTC)
Music LG CT
Edit
I have removed the "Lyrics" section from the guide and added a bit into the "Conception and development" section stating that the writing of the lyrics is to be included here. A link to LyricWiki will be provided in the "Further reading" section and the infobox. MasterFred

(Whatever) 15:49, November 20, 2012 (UTC)
Can I create a new real-world list? A timeline of books and short stories only?ExarKunLives (talk) 06:20, November 22, 2012 (UTC)
TCW Season Five
Edit
Hi there! I have just found the following episodes list for TCW S05 here: [1]. I think it is one of the most official sources, and it contains release dates, order and even characters who will show up in the series. With the help of this source, you could advance the page. Tell me what You think please. I hope my search was useful. Oh, and I almost forgot, to view the next episode (I don't want to link all), obviously, just click on the "Next Page" arrow under the "Watchlist" option. Regards, --XXLVenom998 (talk) 19:03, November 26, 2012 (UTC)
Calendar Man the Great
Edit
RRRAAAWWWWR!
This person is a Wookiee Leader!
This user has been named a Wookiee Leader
for their effective organization of a large-scale
project or effort within Wookieepedia.
Hey Cal, sorry for the long delay, but I think you truly deserve this. I do remember back when you were a noob in 2010. However, that is not the case any longer, as you quickly transformed into a great contributor and helper on this wiki. Basically I think your leadership abilities have been overlooked in some cases. The way you keep emailing every AC for meetings, leading your own WookieeProject, as well as keeping order on the wiki on SH or CT forums. There is pretty much nothing else to say other than you are a good leader here. So here you go, Calendar man. I hereby award you the honorary award for best leader. Keep up the good work. :) JangFett (Talk) 17:31, November 29, 2012 (UTC)
Ando (star) in Star Wars: Episode I Racer Edit
Hi Cal! I noticed you have access to the game Star Wars: Episode I Racer. Could you please tell me whether the star of Ando system is featured in any way in the game (maybe it's visible in the skies of Ando Prime or mentioned somewhere...)? Thanks! Imperators II(Talk) 17:50, November 30, 2012 (UTC)
Random musings
Edit
Hello there! Do you think you'd be able to do a copy edit for the Liberation of slave camps, which should be my next project? Corellian Premier

The Force will be with you always 22:41, December 1, 2012 (UTC)
Cal Jedi, I am sorry for the misunderstanding, while you deleted the page "Jedi Temple store room, I was editing the page. Sorry for the "nonsense", but I was repairing it... I shall redo the page, so, if you see any "nonsense" please do not delete the page... Thank you.
Inq Meeting 54
Edit
Santa's Elves are requested to assemble at the Workshop for Meeting 54. If you cannot attend, please leave milk and cookies. - Cavalier One

(Squadron channel) 21:21, December 5, 2012 (UTC)
Hey, I wanna say why I did that: first, it is just something that doesn't make sense, it is just pure idiotism, as it does not belong to the Star Wars universe, it is just a parody of a stupid clip. Second, it does not have a source, only one appearance, and it did not cover an essential topic as well, for the reason above. But all right, no problem with the article, I just thought it was useless to make articles for things like this. If I write a story by myself, and make an article of it, it will be deleted in about 20 seconds, because it's fanon. I don't think this "Gungan Style" was approved by Lucasfilm, either. Furthermore, do you remember that you moderators, deleted the article "Savage Opress's body armor" a few months (or weeks) ago? So, something that is useful, contains valid and essential information, and has a source/more appearances, should be deleted, but stupid little things like this should be kept. Cool. I have no problem with it, anyways. I just thought it was a kind of joke, thats why I put the CSD tag there. No offense please. BTW, what does CSD mean? Regards, --XXLVenom998 (talk) 18:33, December 6, 2012 (UTC)
Sorry for intruding but just wanted to say that if you are going to tag an article with CSD (Candidate for Speedy Deletion), especially existing and classified as canonical content, you better present a good reason or just some argument strong enough to get it deleted. In fact, if you want anything deleted present a reason and not just pure offensive and immature manners. Savage Opress's body armor was discussed within the Wookieepedia community and the outcome was deletion as it wasn't significant enough to warrant an article (you can however see its content in Savage Opress's article). *flies away* Winterz (talk) 18:41, December 6, 2012 (UTC)

So, what is the difference between moderators and administrators? Administrators just maintain the site, while moderators ban people. You ban people, yes you do, and furthermore discourage people from editing, by threatening them, instead of talking in a sensibel way, you either link some manuals, or tell them to stop or they will get banned. Some of you ADMINS are broad-minded, and can be talked with, but others are quite rude. And you are the ones having enough? Maybe there was a reason you became an administrator, and you know that what is your task. I said that no offense, please, it was just a remark, but you came with this "staring to have enough" speech. YOu must admit you may be called administrators, but you act a lot more like moderators (at least some of you). (Otherwise, I don't really know what is so insulting about it...) About the Opress's armor article, I saw the log, and it was not deleted by "fair discussion", but one of you (don't remember who it was) said that it contains information that is in already contained the "main" article (which is not really, 100% true), and the others were nodding that yes, yes, it is like that. I remember, however, there were a few people who said that the article should be kept, I don't remember who were they, but I think there was even an Admin... So it became deleted, and nobody bothered to check it, because there is no expanded information about his weapons, armor, or treats, just several quotes under the sections. It is the situation for like 2 years now... the WIP tag disappeared, and it still misses some essential information about Savage. Also, please let me tell you, I don't want any offense, with the greatest respect to you ADMINS, these were just remarks and opinions. Please don't get me wrong. Sorry for being so long. Thanks. Regards, --XXLVenom998 (talk) 19:23, December 6, 2012 (UTC)
AC Meeting 53
Edit
AC Meeting 53 has been scheduled for December 22nd at the usual time. Those unable to attend are encourage to think nice thoughts and leave messages of hope and goodwill towards their fellow ACs. - Cavalier One

(Squadron channel) 21:20, December 10, 2012 (UTC)
Ga/Fa nominations
Edit
Ga/Fa Nominations
Edit
Hi, I was wondering, can anyone with enough mainspace edits vote on good and featured article nominations? Or is it something that only members of the Agricorps/ Inquisitorious can do. Thank you. Supreme Emperor (talk) 23:19, December 18, 2012 (UTC)
P.S, Sorry for accidentally leaving 2 headings for my question. Supreme Emperor (talk) 23:22, December 18, 2012 (UTC)
Ok, Thanks for the help. Supreme Emperor (talk) 02:13, December 19, 2012 (UTC)
WP:KOTOR
Edit
Welcome aboard the project, Cal! As of 0:00 UTC (8:00 PM EST), I have assumed responsibilities for leading this project, due to my predecessor Cylka's inactivity. Wherever she is, I wish her well in her endeavors, and should she come back, I will gladly turn over leadership back to her. Over the next few weeks, I look forward to reviewing more articles and also wish to get more KotOR-related projects off the ground, and look forward to moving forward to bettering this project and ultimately Wookieepedia. Thank you for your continued service to Wookieepedia.—Jedi Kasra ("Indeed.") 02:38, December 20, 2012 (UTC)
Hey, sorry bout the Mailand article, I think i accidentally recreated it immediately after you deleted it. Meant to add delete tag to the old one. Must have accidentally done it after you deleted it already. Supreme Emperor (talk) 03:16, December 20, 2012 (UTC)
Re: Somethings
Edit
I should be on quite a bit today, and right now I'll be available for at least an hour or two. I'm on the IRC currently, so just come one when you feel like it. I'll try to find you on there. 501st dogma(talk) 13:10, December 20, 2012 (UTC)
Merry Christmas
Edit
Hey Cal, just wanted to wish you a Merry Christmas and a Happy New Year. Supreme Emperor (talk) 04:11, December 26, 2012 (UTC)
You saved our butts...
Edit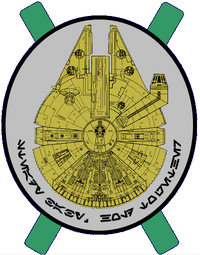 ...THIS time! I was seriously considering how we were going to divide up the work in order to get the queue back into working order in a reasonable amount of time. I was pretty much wowed when I realized you were going to take care of the whole thing. I, for one, am extremely grateful that you saved everyone so much work. That's the stuff true leadership is made of. Great work, and thank you for sacrificing your time. Toprawa and Ralltiir (talk) 03:27, December 29, 2012 (UTC)
Wookiee Cookiee
Edit
Happy New Year!
Edit
Hey, I wanna wish you a happy new year! :) --XXLVenom998 (talk) 10:33, December 31, 2012 (UTC)
Hey Cal, HUGE thanks for nominating me to be the WOTM. It was a real suprise for me to find out I'd been nominated after only actively contributing for about 6 months, and that people had noticed my work enough to support my nomination. It was also great that no random apocalyptic events prevented me from recieving the award. :P Thanks again :) Commander Code-8 To say hi, press 42 08:51, January 1, 2013 (UTC)
Where is my article? Give it back to me now!!!! You d*ck.
Hi! Yesterday, I was blocked from editing for a few hours, and the log said you banned me. Was it an error or you really blocked me? If yes, what did I do wrong? Greetings, --XXLVenom998 (talk) 13:33, January 9, 2013 (UTC)
Okay, no problem, just said it, because it quite upset me that I couldn't edit. However, I'm fortunately not blocked now, so I cannot link you the log, which said you blocked me. But no problem, again. Cheers! --XXLVenom998 (talk) 16:55, January 9, 2013 (UTC)
Thank you
Edit
Not sure there's anything left to say, but a huge thank you one more time for all your help and support in the nomination process. Couldn't have done it without you. :) Toprawa and Ralltiir (talk) 05:37, January 11, 2013 (UTC)
AC Meeting 54
Edit
Brah. AC Meeting 54, brah. This Saturday the 26th, brah. 4 PM ET, brah. Be there, brah. IFYLOFD (Floyd's crib) 20:45, January 20, 2013 (UTC)
Inq Meeting 55
Edit
Inq Meeting 55 is scheduled for 2/3 February. Leave notes if you can't make it. Green Tentacle (Talk) 17:39, January 21, 2013 (UTC)
Apologies
Edit
Hello, it is Gillibax, I would like to apologize for the misunderstanding regarding the sources. I like you am a die hard Star Wars fan and hope to contribute to the website in a helpful and correct way. I will try to research my sources and display them in the futur. thank you - Gillibax
Meeting 55
Edit
Hey Calendar, Meeting 55 has been scheduled for February 23 at 4PM ET (9PM UTC). Please make an effort to show up. 1358 (Talk) 16:19, February 6, 2013 (UTC)
Ahsoka's shoto
Edit
Hey Cal,
I have a question about the Ahsoka's shoto TC. Since it had less than sixteen voters, it would need a 3:1 ratio in order to be a delete, according to Wookieepedia:Consensus --- however, at an 11:4 ratio, it was one vote away from achieving 3:1. Shouldn't it have been a no consensus? Menkooroo (talk) 04:38, February 10, 2013 (UTC)
I just noticed this as well. Menk is right in that it is currently no consensus, and additionally, since the last vote was on February 7, it needs to wait until February 12 before archiving it as such. Could you please undelete the article and its talk page and reopen the thread? —MJ— Training Room 04:56, February 10, 2013 (UTC)

WP:AA And as for my two cents, and to connect, the ratios are only mentioned in the CT section, not TC. Where are you guys looking at otherwise?

JangFett

(Talk)

04:57, February 10, 2013 (UTC)

As far as I know, the TC has always been governed by the same rules --- since the TC section of WP:CON doesn't list its own ratios, reason would dictate that it uses the CT ones as well. And MJ did follow WP:AA by asking Cal to undo the edit rather than undoing it himself. Menkooroo (talk) 05:01, February 10, 2013 (UTC)

Actually, there were cases of TCs passing with a deletion vote similiar to the shoto TC. It has indeed past the two week marker with 11 votes over 4. As far as I'm concerned, I only see ratios in the CT section. Unless you could show me where ratios may exist for TCs, I don't understand why you two want overturn this TC. With no offense, it strikes me odd.

JangFett

(Talk)

05:04, February 10, 2013 (UTC)

I've always seen the CT ratios applied to TCs as well, but Jang, you're right in that they are not explicitly applied that way (though I would argue that they are implied by omission in the TC section, as Menk said). Perhaps it would be a good idea to do a quick CT to solidify that. It makes sense that we should have fixed ratios for TCs as well for consistency. —MJ— Holocomm 05:08, February 10, 2013 (UTC)

I don't agree with connecting CT's guidelines with the TC's. I was thinking about that (your CT suggestion) to help eliminate future issues, but I hope this isn't a way for you to overturn this TC. :P I don't think it should be retroactive since it's already done and the links have been removed. I'm sure in the future more information about the shoto will be released and then an article could be recreated.

JangFett

(Talk)

05:12, February 10, 2013 (UTC)

I honestly think it's common sense that the ratios would apply to TCs as well. There are no unique ratios listed for the TC; if the CT ones don't cover them, then does the closing admin just make up a ratio? Other rules that are only mentioned in the CT section have always been applied to TC votes before, such as a minimum of ten Wookieepedians voting. Menkooroo (talk) 05:12, February 10, 2013 (UTC)

Well Menk, in your view and interpretation, but I like to follow the policies as they are written and shown. Most specifically, the one we are arguing about. I am in favor of MJ's suggestion, but I hope my point about retroactive is clear.

JangFett

(Talk)

05:14, February 10, 2013 (UTC)

It's not my interpretation; it's overwhelming precedent. The ratios governing CT consensus have always been used in TC discussions before. Otherwise, what would the closing admin do? Make up a ratio? It's how it's always been done, and how it should be done this time, too. Menkooroo (talk) 05:17, February 10, 2013 (UTC)

I've started a CT thread at Forum:CT:Minor point on closing TC threads to extend the CT ratios to the TC in general. It is explicitly not retroactive to this particular TC thread, leaving it up to Cal as to whether to reopen it. —MJ— War Room 05:26, February 10, 2013 (UTC)

Oh, and Cal, apologies for turning your talk page into a forum. :P —MJ— Council Chambers 05:27, February 10, 2013 (UTC)
FAN page reviewing
Edit
Hey, Cal,
Per the discussion at the recent INQ meeting 55, I've just now gone and left personalized talk page messages to a whole whack of users, asking them to review more on the FAN page. I went for people who review a lot on the GAN page, people who nominate FANs but never review others' work, and more --- hopefully we'll be able to kick-start a reviewing revolution.
With that said, I believe I'd be remiss if I didn't extend the appeal to the Inquisitorius, as well. I'm not trying to single any one person out, and to emphasize that point, I'm leaving the exact same message on every INQ member's talk page rather than personalizing them like I did with the non-INQ mesages. Every INQ member save five, that is, and those five members have been reviewing FANs frequently enough that they don't need any sort of push like this. Everyone other than those five INQs, yourself included, has reviewed less than twelve FANs since the beginning of July. A few meetings ago, we agreed on eight FAN reviews per month as a good number for which to strive. I've now encouraged a large number of non-INQs to review more frequently, and the Inquisitorius as a whole should be actively participating in that revolution if not leading it. So, as an INQ, please review FANs more often. Cheers, and have a great day! Menkooroo (talk) 08:14, February 11, 2013 (UTC)
Hi Cal. Could you please take care of this guy? Stake black msg 17:41, February 19, 2013 (UTC)
ANH Rodians
Edit
Hello Cal, after I realized not all sources contain the OT film scripts are the same, I got rid of the sources from your Rodian articles in the chance they only mention Jabba sans any henchmen. I'd recommend for you to check the sources and see if they're there. Alternatively, if you don't have those, SavageBob does, and you could ask him about those sources. Thanks. Hanzo Hasashi (talk) 00:04, February 23, 2013 (UTC)
Re.: Rodians
Edit
Hey, CJ. Sorry for the belated reply. I didn't forget about you, just got super busy! The Rodians and other assorted thugs do seem to be mentioned in the various screenplays. The scene begins like this: "Jabba the Hutt and various ghastly alien pirates stand in the middle of the docking bay. Jabba is the grossest of the slavering hulks…" (Annoted Screenplays, p. 50). The annotation in The Annotated Screenplays indicates that "The other aliens present in the scene, which include another creature of the same race as Greedo, were already in the original footage [before the digital Jabba was added 20 years later]" (p. 51). They're mentioned in The Art of Star Wars Episode IV as well in a slightly different way: "Jabba the Hutt and a half-dozen grisly alien pirates and purple creatures stand in the middle of the docking bay. Jabba is the grossest of the slavering hulks…" (p. 71). Unfortunately, I'm having trouble locating m copy of Behind the Magic, but I imagine they're probably listed there too. Hope this helps! ~Savage

13:49, March 2, 2013 (UTC)
Hi. You have deleted a concept art picture of Rod's helmet. Why? --Andersand17 (talk) 20:38, March 21, 2013 (UTC)
WotM interview
Edit
Hey, thanks for the honor! I'd be happy to do an interview, just let me know what I need to do. Coruscantfan (Talk) 01:50, April 1, 2013 (UTC)
Sounds good. Coruscantfan (Talk) 04:42, April 1, 2013 (UTC)

Hey what's up. I was wondering if you had a chance yet to send me those questions? Coruscantfan (Talk) 05:42, April 5, 2013 (UTC)

Cool, no rush, I was just wondering since I hadn't heard from you. :) Coruscantfan (Talk) 15:09, April 5, 2013 (UTC)

Hey, I'm not sure why but I didn't get the email. Coruscantfan (Talk) 04:09, April 8, 2013 (UTC)

YeahI only got one email so I'm not sure what the problem is. I would just leave it on my talk page and ill try to email you back with the answers. Coruscantfan (Talk) 14:34, April 9, 2013 (UTC)

Got em thanks. :) Coruscantfan (Talk) 14:42, April 9, 2013 (UTC)

There seems to be a problem with the email special page, I can't seem to be able to open it. Or is it just me? Coruscantfan (Talk) 01:19, April 11, 2013 (UTC)

Ok, I just replied directly from my email, so you should have the answers. I don't know what's wrong with the email page. Coruscantfan (Talk) 02:32, April 11, 2013 (UTC)
Real world nationalities
Edit
Hi there Cal, just a query regarding real-world articles: The other day I had a disagreement with another user about the nationality that should be used in a person's infobox, basically I changed the nationality in an info box in an article from English, to British, which he then reverted, the reason for my edit is that British is the actual legal nationality of said person (and of all citizens of the United Kingdom), basically what I was trying to say was that being English is more of an locational/ethnic definition (it would be sort of like saying that a person was a Californian, rather than an American & in my opinion (and wikipedia's seemingly) the legal nationality seems a more encyclopedic definition, does wookieepedia have a specific policy regarding this sort of thing? The disagreement wasn't resolved, as I didn't want to get into an edit war, we just left a few comments on each others talk pages. Thanks DK Wolf 27

Holonet Channel 15:46, April 2, 2013 (UTC)
Bendu Monks in "Star Wars Episode I: Racer"
Edit
Hello Cal Jedi. I'd like to expand the article pertaining to the Order of Dai Bendu, but I've been unable to run Star Wars: Episode I Racer on my computer. Since you seem to possess a working copy of that game, I'd like to know if you could answer a few questions about the Bendu.
The Talid articles says that "Their monasteries and shrines were very ancient by the Rise of the Empire, and inhabited by Bendu monks." This implies that there were still Bendu monks by the time of the prequel trilogy. If it's the case, I'd be interested to know everything the game has to say about them.
The Andobi Mountain Run mentions a "Bendu statue." Is it possible to have a picture of it? Or any information that could be provided in the game?
I saw that you can meet a Talid called Ten-Abu Donba, who is a Bendu monk. How come you meet him in a race game? Does its appearance reveal anything of interest about the Order?
I do realize it's a lot of questions at a time, and you may not even have easy access to the game. However, wer'e certainly not under time pressure, and any new piece of information would be most welcome. ;) Regards. --LelalMekha (talk) 21:56, April 14, 2013 (UTC)
Workbench
Edit
Hello. I was wondering how to make a workbench as I would like to make a couple of them for some projects of my own to display on my page. I would be grateful if you could tell me how I can do that. Many thanks. Dark Lord 21 (talk) 06:42, April 16, 2013 (UTC)
Inq reviewing tutorial
Edit
Hey Cal. As per discussion at Inq Meeting 56, I've started to write a draft for what will eventually become the Inquisitorius' tutorial guide for new reviewers. It can be accessed here. I haven't had as much time as I would like to work on it recently, so there are still some sections that have yet to be written, but I've started off with trying out some basic organization with the current sections. Please feel free to jump in, either by writing new stuff for the guide or commenting on/adjusting what's already there.
Every current member of the Inq will eventually have to approve the guide in its entirety, so getting involved with its development would be great, sooner rather than later. The talk page can be used to discuss ideas about organization, sectioning, content, you name it. Let me know if you have any questions, and your contributions are appreciated! CC7567 (talk) 21:01, April 16, 2013 (UTC)
LEGO game guides
Edit
Hello Cal, as you were the nominator of the Rebel Friend article, did the game guides also show the guards in front of the entrance to the Royal Award Ceremony (whose roles correspond to Galen Torg and another Honor Guard)? Thanks in advance. Hanzo Hasashi (talk) 14:58, April 23, 2013 (UTC)
Hey Cal, just wanted to say thanks for supporting my nomination for WOTM last month. I really appreciate it. Supreme Emperor (talk) 13:56, May 2, 2013 (UTC)
Interview
Edit
Hey Cal, I would love to do an interview. Would you be good with posting the questions on my talk page? Thanks, Supreme Emperor (talk) 02:42, May 3, 2013 (UTC)
Thanks for the questions, I should be able to answer them either tonight or tomorrow. If you think of any other questions feel free to add them at any time. As for pictures, i'll get back to you on them :P Supreme Emperor (talk) 00:26, May 4, 2013 (UTC)

Looking over some previous interviews, there are two other questions I wouldn't mind taking a shot at. First is what role does Wookieepedia play in the Star Wars community, and the second would be something regarding Episode 7. Thanks again, Supreme Emperor (talk) 01:35, May 4, 2013 (UTC)

Will do, i'll try to finish them tonight or tomorrow, keep getting distracted by other stuff :P Supreme Emperor (talk) 00:10, May 11, 2013 (UTC)

One quick question, what do you mean by What is your Star Wars philosophy? Only question i'm having trouble answering, but this may be because i'm tired :P Thanks, Supreme Emperor (talk) 04:31, May 18, 2013 (UTC)
Spice runner added in that he escaped on Fatman. I haven't read the book so I assumed it was right, and indented the name since it is a ship. Trip391 (talk) 22:00, May 20, 2013 (UTC)