Please feel free to leave me a message
Please do not leave me messages about objections unless they are older than two weeks.
Why this page is empty, we demand answers and we want them now! (; – Tm_T@Wookieepedia:~$ 10:32, September 2, 2013 (UTC)
Inq Meeting 59
Edit
Hey Xd. Meeting 59 of the High Council of Inqusitors is scheduled for next week Saturday, September 21. Please make sure to leave notes if you cannot attend. Otherwise, see you there! CC7567 (talk) 01:42, September 9, 2013 (UTC)
EduCorps Meeting 2
Edit
You are invited to participate in EduCorps meeting 2, which is scheduled for 7 PM ET on Saturday, September 21st.--Exiled Jedi
(Greetings) 14:13, September 12, 2013 (UTC)
AC Meeting 61
Edit
You have received a ticket for a front row on the future AC concert starting September 28th. Bring your guitar. If you can't make it to the karaoke session, please leave notes. - Winterz (talk) 00:19, September 14, 2013 (UTC)
Meeting reminder
Edit
A reminder that Inq Meeting 59 will be in two days (if you go by ET, that's Saturday the 28th at 8 PM ET). If you can't make it, please remember to leave notes. Thanks. CC7567 (talk) 02:33, September 27, 2013 (UTC)
Re: 50,000
Edit
Haha thanks, Xd. Maybe another five years and that will happen. :P CC7567 (talk) 18:39, September 27, 2013 (UTC)
Master and Apprentice awarded: Thank you for your help with IRC
Edit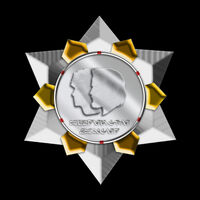 --
Richterbelmont10
(

come in R2!

)
16:03, October 11, 2013 (UTC)
Hi Xd1358! I just wanted to post a little message to thank you for supporting my nomination for Wookieepedian of the Month. I couldn't be more grateful.--LennyF (talk) 15:49, November 1, 2013 (UTC)
Future WookieeProject
Edit
User:Byzantinefire/Workbench So can you please add some stuff to it to better illustrate on what might look like in the future? Byzantinefire 18:45, November 5, 2013 (UTC)
EC Meeting 5
Edit
Greetings, EduCorps Meeting 5 is scheduled for Saturday, November 16th at 7 PM ET. If you are unable to attend, please leave notes on the meeting page on how the articles under review should be handled. (If you are not an EC-only member and wish to stop receiving EC meeting notifications, please leave a message on my talk page.)--Exiled Jedi
(Greetings) 05:58, November 11, 2013 (UTC)
I created the page Battle of Felucia(Unidentified Jedi Knight). Could you view it for me and see if it meets Wookieepedia standards Reply on my talk page please --50.158.189.212 14:09, November 30, 2013 (UTC)
Do you think this could be a comprehensive or a good article. If so or not please reply on my talk page. I put a lot of work into it. Also Bossk is missing a Personality and Traits section. My edit to the page got reverted. Look it over and see if you can be of help to me. --50.158.189.212 14:41, November 30, 2013 (UTC)
AC Meeting 64
Edit
Meeting 64 is scheduled for January 18 at 9 PM UTC (4 PM Eastern). Make sure to leave notes if you can't attend. Winterz (talk) 17:35, December 27, 2013 (UTC)
You said ask
Edit
Thank you for your impute, as you have seen, my attempt to create a user-based forum has gone up in flames, so, I now wish to know, are there any forums or discussion pages for discussing topics such as: 'The expansiion of the Star Wars universe, and ideas of the fans to transform 'fanon' ideas into canonical story lines, in the form of a Star Wars book I am writing and will propose to Lucasbooks later this year, (the above is sensitive - don't pry, ahem, excuse me). So...--

MadMarek (Force Box) - "We speak, we learn, thats what we're for" 16:13, January 6, 2014 (UTC)
EduCorps Meeting 8
Edit
EduCorps Meeting 8 will be held on February 8th at 7 PM ET. Don't be afraid of the smile.--Exiled Jedi
(Greetings) 00:56, January 18, 2014 (UTC)
Problem with it.starwars
Edit
Hi, I've already asked it to CC7567 and he suggested me to talk with you. I report here the same message I sent him:
I'm the admin of the italian star wars wiki, the Javapedia. Hi have noticed some problems in my wiki and I would to make some things become as Wookieepedia's correspondents. If you or someone else could help me, solving some of this points, I would be grateful:
The admin's name(s) should appear in green;
The Template:Appearances (in italian, Template:Comparse) isn't hideable;
It isn't possible to add images into the Template:Appearances.
For now, the problems are just these. Thanks very much for the attenction, and please tell me if I've to post this message somewhere else. —Unsigned comment by Admiral mike501 (talk • contribs).
Re:Chopper
Edit
Well as i said to Cade i did not have enough time and i am not totally used to guidelines here. Byzantinefire 21:09, January 27, 2014 (UTC)
But i wanted to be the one who made it first thats why i made it. Byzantinefire 21:18, January 27, 2014 (UTC)
Template concept
Edit
Hi there. I have tested it, and the template is mainstream on Wikipedia (which I am aware doesn't automatically make it suitable or desirable for Wookieepedia, but it tells something about its functionality. As I explained to Cade, I imported this template because the one MJ created needlessly forbids users from opting for vertical or horizontal layouts. It's also a bit more complete, which makes it more functional. It seems pointless to have both templates around. Cheers. Stake black msg 00:03, January 28, 2014 (UTC)
Hey, thanks for the congrats, that's way cool. Protectorate (talk) 23:33, February 7, 2014 (UTC)
Please help I accidentally changed the link to the starfighter page! Here is the link http://starwars.wikia.com/wiki/Starfighter {{SUBST:EZsig2|User=asathegreat7|Background_box_1=#FF0000|Color_box_1=#0000FF|Background_box_2=#FFFFFF|Color_box_2=#FF0000|Background_box_3=#0000FF|Color_box_3=#FFFFFF|Background_box_4=#000000}} 01:53, February 26, 2014 (UTC)