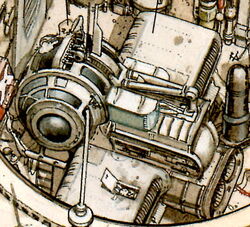 A utility crane ship was a small spacecraft used to carry loads with a utility crane.
Chalmun, owner of Chalmun's cantina in Mos Eisley, used such a vessel both as an emergency escape craft as well as a liquor transport. Whenever large freighters would orbit Tatooine, Chalmun used it to collect liquor imports for his establishment. He kept it in a small hangar at the back of the cantina, where his mechanic kept it maintained.
Ad blocker interference detected!
Wikia is a free-to-use site that makes money from advertising. We have a modified experience for viewers using ad blockers

Wikia is not accessible if you've made further modifications. Remove the custom ad blocker rule(s) and the page will load as expected.