The V38 assault fighter was a starfighter that served as the basis for the TIE Phantom.
Characteristics
Edit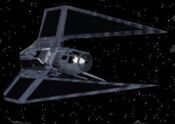 Design-wise, it was unique among TIE Series starfighters, as the quadanium steel solar panel wings attached directly to the hull instead of via pylons. The hull/cockpit itself was non-spherical, compared to other TIEs, though it was similar to the Scimitar assault bomber.
The V38 appeared to have the wing of the TIE/IN interceptor, and its triple wing design was reminiscent of the TIE/D Defender and the Dagger-class starfighter.
The V38 was developed by the Galactic Empire during the Galactic Civil War on the planet Imdaar.[1] This type of starfighter was familiar to Admiral Gial Ackbar, who was able to identify it after viewing footage of TIE Phantoms in action.
Appearances
Edit
Notes and references
Edit
Ad blocker interference detected!
Wikia is a free-to-use site that makes money from advertising. We have a modified experience for viewers using ad blockers

Wikia is not accessible if you've made further modifications. Remove the custom ad blocker rule(s) and the page will load as expected.