The VCX-100 light freighter was one of the Corellian Engineering Corporation's freighter designs. A most notable example of this model was the Ghost, a modified VCX-100.
Characteristics
Edit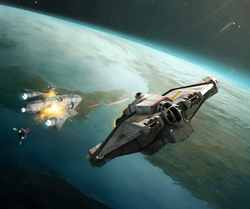 Based on the Ghost, the VCX-100 has sleeping quarters and perhaps even a kitchen. Its armament comprised a dorsal turret and a frontal-turret, the latter being controlled by a gunner in its seat or from the cockpit. The cargo bay and main entrance ramp of the VCX-100 was mostly located in the front of the freighter, below the forward-turret. VCX-100s also had a slot in between its main engines, into which a VCX-series auxiliary starfighter could dock. The VCX-100 was also outfitted with a magnetic cargo clamp on its ventral plating, capable of holding several bulk containers.
Appearances
Edit
Non-canon appearances
Edit
Notes and references
Edit
↑  The Ghost in the Databank (backup link)
Ad blocker interference detected!
Wikia is a free-to-use site that makes money from advertising. We have a modified experience for viewers using ad blockers

Wikia is not accessible if you've made further modifications. Remove the custom ad blocker rule(s) and the page will load as expected.