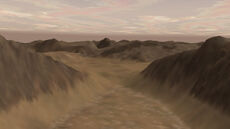 The Valley of the Winds was located near Jabba's Palace on Tatooine. A canyon located between two deserts, one high and cool, the other low and hot. Throughout the day, the fierce winds shifted the sand back and forth between the two areas, these sand tides eroding away at the canyon's surface, leaving it smooth but jagged.
The nature of the Valley inspired Jabba the Hutt to conceive The Teeth of Tatooine.
Behind the scenes
Edit
In the 2003 massively multiplayer online-role playing game Star Wars Galaxies: An Empire Divided, the Valley of the Winds was one of many designated planetary regions, prior to the game's closure on December 15, 2011. However, in the game, "Winds" was not plural.
Appearances
Edit
Ad blocker interference detected!
Wikia is a free-to-use site that makes money from advertising. We have a modified experience for viewers using ad blockers

Wikia is not accessible if you've made further modifications. Remove the custom ad blocker rule(s) and the page will load as expected.