The Variable Altitude Assault Transport/ enforcement (VAAT/e) was a predecessor to the LAAT gunship used primarily by the Coruscant Security Force as a rapid troop deployment platform.
Characteristics
Edit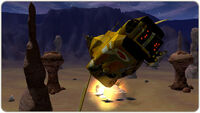 It was manufactured by Rothana Heavy Engineering and measured 25 meters in length, 7 meters in height, and had a wingspan measuring 25 meters. Its cargo capacity was about 36 cubic meters in the main hold, and it could carry about 15 troops and 1 IM-6 battlefield medical droid.
Its crew consisted of one pilot, one copilot/gunner, and two auxiliary turret gunners. It was armed with a concussion missile launcher and two dual heavy laser cannon turrets.
A VAAT/e was used against Jango Fett by the Coruscant Security Force after he assassinated Senator Connus Trell.[1]
During the Galactic Civil War, this vehicle was used by Galactic Vacant Building Demolitions to destroy abandoned buildings in low-orbit aerial bombardment, using concussion missiles.[2]
Appearances
Edit
Notes and references
Edit
Ad blocker interference detected!
Wikia is a free-to-use site that makes money from advertising. We have a modified experience for viewers using ad blockers

Wikia is not accessible if you've made further modifications. Remove the custom ad blocker rule(s) and the page will load as expected.